Although it is not explicitly stated anywhere on the print or even on IMDB, it appears that the narrator's voice in Effi Briest is that of Ulli Lommel – even though narrator is a role that has turned out to be very important to Fassbinder in his films. Lommel's reading style, like his acting method, was partially unique, and certainly recognisable; except for here; and if that is Fassbinder reading the narrator's part in the earlier sections of the film, then I am without doubt Monkey Onkel.
Still, when Ulli Lommel enters the movie in person, wearing a moustache, I was happy that I had lived. Crampas, who arrives in the action 44 minutes down, is everything to the story of Effi Briest. Obviously when Ulli Lommel opens his mouth, Ulli doesn't speak; the idea that Crampas might narrate the film is theoretically challenging beyond all interpretation. So the voice is that of Wolfgang Hess – one of many confusing cross castings in Effi Briest.
It was ambitious of Fassbinder to recreate the prose tone of the novel in making his movie - something that film makers rarely attempt. Why should they after all? Separate media have their own styles and challenges, but as in Querelle and Berlin Alexanderplatz, Fassbinder was so fond of the books that he felt a need to bring the author's voice to the screen as well. The artistic reasoning here is an attempt to allow a film viewer the same freedom as a book reader has when it comes to judgement – hence to some the film may appear a little static.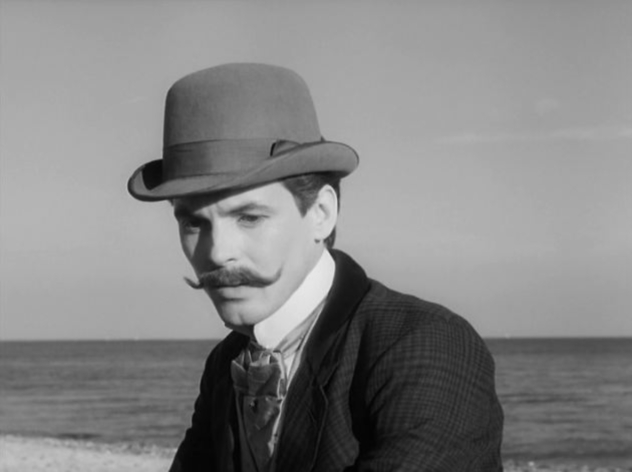 The courting of Crampas and Effi Briest takes place on a beach shot several ways by Fassbinder; and Crampas is chosen as Effi's escort because of his conversational skills, and surprisingly he talks of Effi's husband Instetten telling ghost stories in the past. According to Crampas, Instetten has an urge to teach, and was born to be didactic, and is offering Effi an education via ghosts – and she is just about as confused as the viewer. In this sense Instetten wants the ghosts to guard Effi when he is out and about on business – it is in the words of the author 'an artifice created to inspire fear'.
Major Crampas, in the handsome guise of Ulli Lommel makes Effi's situation immeasurably worse, although this is not how it feels at the time; although the ghosts are everywhere and all around her. Crampas' wife (like Frau Kruse also, we hear) is a lousy woman – but we have to take the word of Instetten for this. Why Instetten trusts his wife with a man that he describes as a gambler - not at the table – but in life,' and whom he clearly does not trust, is difficult to understand – but he may just be testing the fatality of his feelings and suspicions.
Crampas is in fact, even by today's standards, an out and out libertine, certainly in his disregard for authority and convention – perfect extramarital affair material. For Ulli Lommel, as others in the cast, Effi Briest offered a truly fascinating role and one which he could develop personally, and as close as he was to Fassbinder, he makes an excellent job of it. Lommel it was, who described working with Fassbinder as like entering 'a communal magnetic field' in which something could occur 'that was more beautiful than life' – and that is precisely what is in evidence here. Rarely will you see a troupe of actors all so diligently working together to a common goal.