Sometimes I read about Fassbinder's relationship with Irm Hermann and I become sadder and sad, and unsure if I should believe what I read. From when I first saw her, I was a fan of Hermann's, but it was not pleasant to begin to read about her, and pick up stories of how unpleasant her life with Fassbinder was.
In Mother Kusters Goes to Heaven Irm Hermann plays the heartless and soulless wife Helene. 'Father is sick of your salads,' says Brigitte Mira to Irm Hermann at the start of the film, introducing yet another frosty and unbearably unloved character sketch by Irm Hermann. Hermann is without doubt, Fassbinder's favourite cold lady, expressing disdain, stupidity, and all the worst of local gossip and public opinion – and she does it so well that we are also quite terrified of her.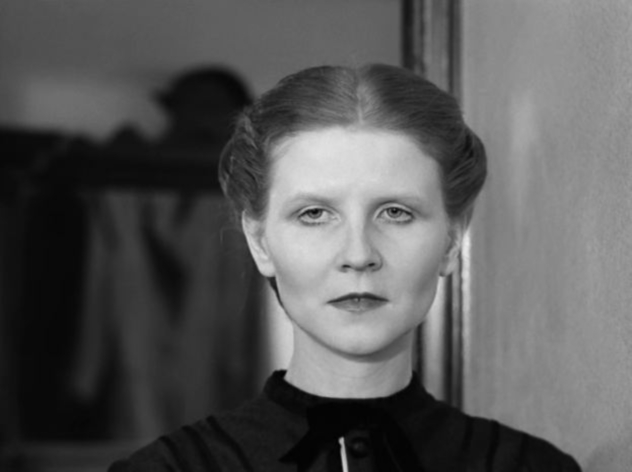 Enter the eternally suffering form of Irm Hermann, dressed like a black pawn, in another frighteningly depressing role, here Johanna, the Haushälterin. There were always moments of great consequence when Fassbinder cast Irm Hermann, and the black and white of Effi Briest does nothing to diminish her frightening appearance and the acting power she brings to any ensemble. She can be uniquely unpleasant as she is here, and as she is in Mother Kuster's Trip to Heaven, and her stillness is especially suited to Effi Briest, in which she is certainly one of the stars.