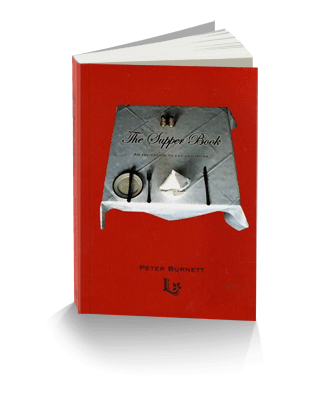 When I was touring the cities and reading from my second novel, Odium, I found that folks were also i
nterested in a photocopied pamphlet I'd produced the year before, in which I listed everything I had eaten and drunk over a twelve month period. This gave me all the impetus I needed to prepare a book-length version of that list, the end result of which was The Supper Book.
The Supper Book is a complete list of everything I ate and drank in one year. It has notes, illustrations and short essays as well as reviews and details of many of places where I ate and drank.

Despite a warm response from readers, this was a very difficult proposition to sell to my publisher, or any other publisher, as it turned out. In fact, every person i pitched the idea to rightly considered The Supper Book to be publishing insanity. To prove them either wrong, or myself insane, I published the book myself in 2008.
The list of food and drink is glossed, so there is something of a reading experience in The Supper Book, as opposed to the mere publication of a list; and the more I developed this gloss (which takes the form of footnotes) the more I realised the incredible natures of the many concoctions I had purchased or been served.
Everything in the book contributed to the invention of myself, I realised. "You are what you eat" is the most common maxim that describes this process.
My blurb states: In The Supper Book I have attempted to demonstrate the character and virtues of my foods and collected notices on the history and culture of many of the meals that I found it worthwhile to comment upon. The book also details manners of eating and drinking, and a list of the cafes, restaurants, bars and private homes visited.
Publishing isn't that easy though, and self-publishing is harder still. Distributors, bookshops and national newspapers are unwilling to deal with insane books, for very particular financial reasons and logic pertaining to a concern over their image, and this is worsened in the case of self-published titles; but on the plus side, insane books never go out of fashion, and even though you won't see it in your local Tesco, this insane book still gets about, slowly.
In its favour, The Supper Book does at least conform to the contemporary fashion for strange and so-called 'toilet-books'; those weird digests of modern life that became popular after Ben Schott's Almanac sold so well.

"Against formidable odds, Mr Burnett has produced a book I shall be dipping into for a long while, like a buffet one can't resist."

"The Supper Book manages to hold your attention through wit and wonderful oddness."

"A celebration and a ringing indictment of contemporary advert-driven consumerism."

"Refreshingly honest and agenda-free — a rare thing in today's food wars."
Great deal on The Supper Book from Word Power Books