What have they done to your daughters? Film fans know there are always more genres out there than they bargained for and although most of these sub-genres are hybrid, they are nonetheless valid. There is for example the Italian horror thriller genre, a perfect triple genre that actually does extend and defy other genres. As it is, Italian horror thriller includes crime and eroticism. The genre known as giallo which is Italian for "yellow" stems from a series of cheap paperback novels with trademark yellow covers and covers more bases yet; giallo indeed comprises Italian horror thriller crime eroticism.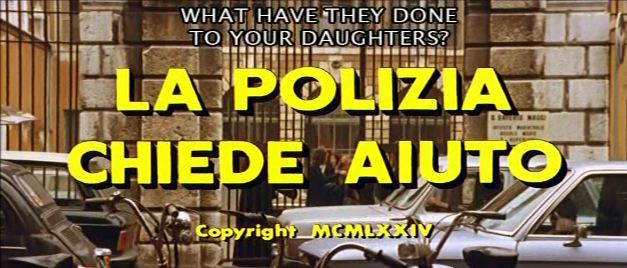 Oh, Giallo film also has all elements of poliziotteschi, which basically means an Italian police/crime film. There are a few high points in which all these types arise, such as Dear Killer; but What Have They Done To Your Daughters? is also genre perfect in these terms.

These films are cheap, not in a good way, and even having said that, probably cost a lot more to make than they appear to have done. Dear Killer is a film which exists for one sequence in which someone is decapitated by a crane with a bucket digger; and if there is a bucket digger in WHAT HAVE THEY DONE TO YOUR DAUGHTERS? (1974) then touching sentimentality is driving it, with the inclusion of children under threat.


The story is about a teenage prostitution ring in an Italian city, but it is the blaze of machete-wielding fury that makes this what it is. In fact, a lot is achieved with very little – one man in leather and one cleaver, and a lot of dashing about. One cleaver; one man in leather; lots of film. I liked the soundtrack but I also thought that while it would be considered cool by aficionados, the music in WHAT HAVE THEY DONE TO YOUR DAUGHTERS? is the worst reminder of the fact that this is derivative cinema. That means everything is struggling to burst into something else – ON HER MAJESTY'S SECRET SERVICE in the case of the music.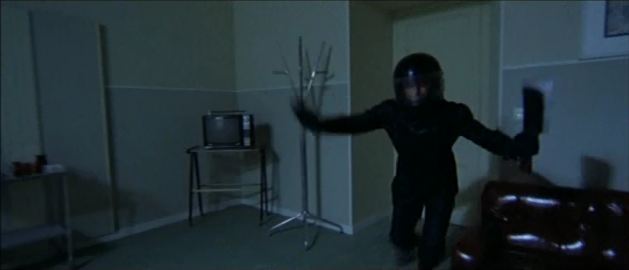 Effective: a leather motorcycke suit and a cleaver
It is always a joy to see a Fassbinder star acting in something like this, because it allows you to see just how special the Fassbinder gig must have been. Worse, Mario Adorf, who receives third billing and starts the film by being a central character, inexplicably vanishes as the slightly more 'handsome' cop Inspector Silvestri comes back from holiday. Adorf returns near the end in a weak plotline in which the effects of the crimewave in the movie touch his own family; but it does not work at all.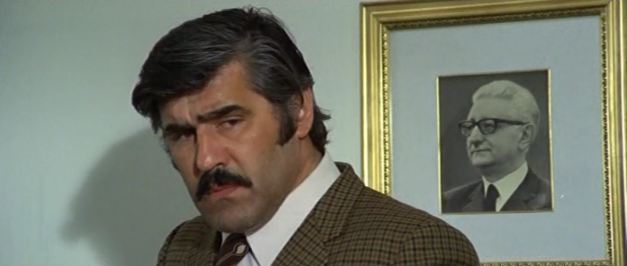 Mario Adorf just looks different. To see him dubbed into English is shit, and when he shows up in WHAT HAVE THEY DONE TO YOUR DAUGHTERS it's always at the same pace, with the same intensity, and with pretty much the same lines. It is just wrong of films like this to offer social and emotional commentary; following 90 minutes of quick fire bloody machete hacking, rape, teenage nudity, and governmental corruption with a sobering message about missing children, takes the fun out of the quick fire bloody machete hacking, rape, teenage nudity, and governmental corruption.

But it is what it is, and although giallo fans rate this number pretty highly, even Mario Adorf didn't much save it for me.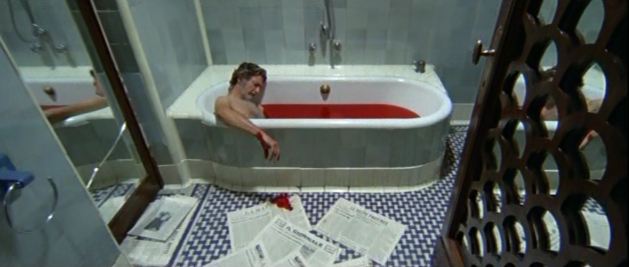 Marat-style bath death?
And the title, La Polizia Chiede Aiuto; you can render that as lamely as Police Ask For Help, and hence the English: WHAT HAVE THEY DONE TO YOUR DAUGHTERS? The film, which is also known as THE CO-ED MURDERS (yuck!) is known in German as THE DEATH WITH BLACK LEATHER, which is much better by far. Much better because this film is about death and a person in black leather.

To look out for in La Polizia Chiede Aiuto is Farley Granger, who died March 2011. Granger moved to Rome with his partner Robert Calhoun in the early 1970s and while there he made many films like this one . . . including Guerilla Strike Force (1970) / The Spider Web (1970) / They Call Me Trinity (1970) / The Red Headed Corpse (1971) / Something Is Crawling in the Dark (1971) / Amuck (1972) / Penetration (1972) / Night Flight from Moscow (1973) / The Man Called Noon (1973) / Kill Me, My Love! (1973) / Arnold (1973) / Venus (1974) / Savage City (1974) / What Have They Done to Your Daughters? (1974) and my favourite . . . The Prowler (1981)