Kurt Raab is in a panic; he's sweating cold and his eyes dart from side to side. He's worried, he's mad, and he's under pressure. He can't get money from his publisher; he might have to murder somebody for it. His hair is flicking up like Adolf Hitler's hair and he is just as paranoid as the fuhrer.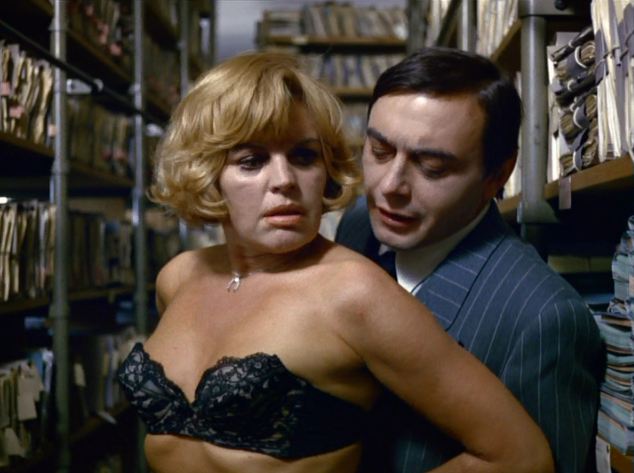 He shouts at strangers, which is stranger than shouting at friends, and he is cold and crazy in public places, such as when he and Margit Carstensen dine out; everyone is below him, everyone is scum. He is the funniest liar in the world and has a different tactic for every situation. In the restaurant he spends an age squiggling his finger in his ear as the waitress delivers the bill and mentions the price; and also when Carstensen asks where she can stay. He evades everything like the greatest coward.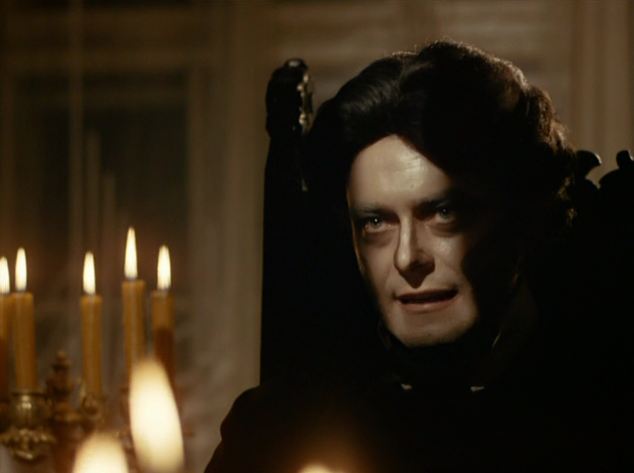 Satansbraten opens with a quote from Antonion Artaud. It's in French and on screen for such a short time, that most people will not be able to read it. It's followed by some typically crazed acting from the wonderful Kurt Raab, playing Walter Kranz, a writer trying to gain access to his publisher, because he needs the money. He is awful, he is ridiculous, his hand fidgets inside his suit pants and he flings himself at his publisher's door with no concern for the safety of his own head. He is every inch the comic failure, and this is the part the energetic Raab has been waiting for. The comedy in Fassbinder's earlier film, Why Does Herr R. Run Amok, in which Raab also leads, is more natural and good humoured – and understated of course – but all comedy is understated compared to Satansbraten.
Kranz is pathetic imperfection. Simply, as he says to his sometime lover Lisa, he is more important than everybody else, because he is a poet. As a writer Kranz can do nothing and as a man, even less. He asks Lana, the prostitute he is interviewing for his new project, if she can think of anything he should ask.
In fact, every line Raab delivers and every move he makes is cowardly, ill-advised or selfish. He cannot write himself, but enjoys putting down his brother's attempts to write verse. He always sails close to the edge and although the police know for sure that he killed his mistress, the logic of a film like this will never allow them to prove it.
All of Kranz's habits and motives are dire – including sleeping with the prostitute Lana for study purposes or research. But the sexual release also allows Walter Kranz to write poetry for the first time in two years, much to the amazement of his family.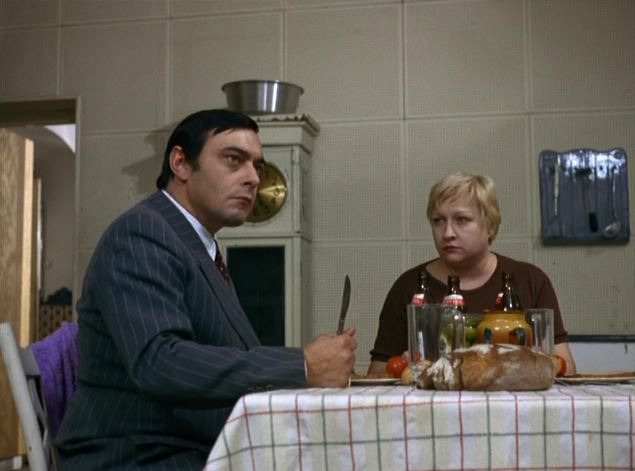 'I've written something new, for the first time in two years! Listen!'
The story takes a turn hereafter. The two people whom Kranz consider the greatest dolts of them all, find the poem Kranz has written in a collection by Stefan George – meaning the commencement of a breakdown for the poor writer, as he has obviously lifted the verse without knowing it. Is Fassbinder suggesting that artists do that anyway? Of course he is. And why Stefan George, of all people, asks Kranz? Ah so, by the end of the film, we'll all know the answer to that one.
The first thing we discover is that his brother can't really tell the difference anyway, not only between the poems, but between the poets too – and it is certainly this belief that allows Kranz to take his first few steps as Stefan George – for the moment he reads the poems of George, he knows in his heart that they are also by him.
It is now Walter Kranz's job to turn himself into Stefan George and he does so using insanely plastered black makeup to try and hide his fat. And when Kranz talks about Stefan George, he reaches top gear – Hitlerian bark – because George is Kranz's madness; as art is the madness of every artist, says Fassbinder. Kranz sullies the purity of any artistic vision, all in the cause of being a writer – which is in this case all about cult and aesthetic, and not about writing at all. The aesthetic is not something that can exist in a tram or in a toilet as Kranz has it, but only in specially cultivated circumstances.
It is ironically a fair portrait of the pressures of mental illness – madness, as it is called here. Take the scene where Kranz tries to rape Lisa in what appears to be a strangely abandoned orangerie in a park (see the TRAILER below). It veers from the typical Satansbraten levels of insanity, with violence, shouting and absurd conclusions, to a brief and tender confession (in front of a mirror of course) where we hear Kranz's simple confession: he doesn't love himself, he seems to only love his obsession, and he is his obsession, and feels like he cannot go on – to which his best friend has to express; 'take care of yourself – I can't help you out of it.'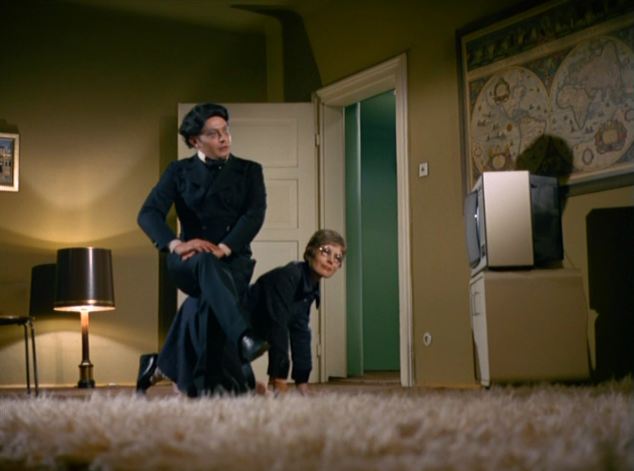 Visually, the high points come along thick and fast when Kranz begins to dress as Stefan George, and cultivates George's circle. It is truly mad, and also joyous, a kind of meeting of times too as Stefan George plunges into the 1970s, comprehensively. Kranz has perfected George's rough makeup, creating the most incredible hybrid of high parody and commentary on just what we think of and do with the so-called classic writers in this life.
Raab becomes funnier still when his insanity clashes with his sexuality, and he is obliged for the sake of George to be gay. He is so funny, choking on the taste of another man's penis in the most unromantic farce when he goes on the pick-up, after discovering that George was (and is, in his case) gay. Instead, he recovers, and expresseses sexuality in the same way he expresses art – as existing behind several barriers to the real – cosetted – safe – not for the tram or the toilet – and reveals the man for rent that he picked up earlier, in a toga, reciting, and playing 'Maximin' – George's own lover – in front of the hired Kranz/George circle. The man is a male prostitute, and not an orator of poetry, so the effect is funny and silly. George has created his own audience they are all whores, venal trash. When his money goes, so do they. Apart from one, Dieter Schidor?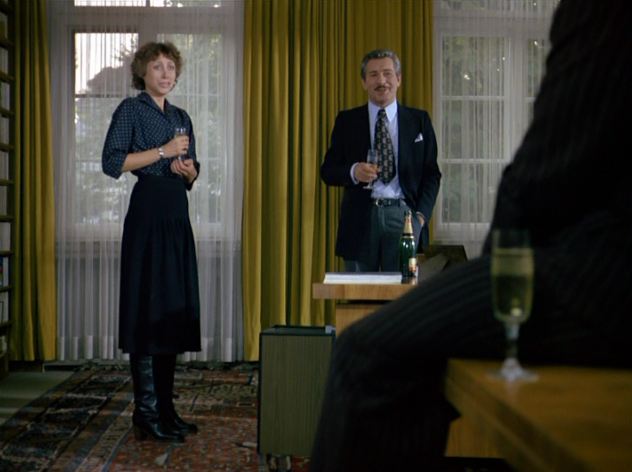 Ultimately, Kranz is able to celebrate with his publisher, and it appears he has moved on too, presenting his new work, an epic from the sordid depths of humanity – and Raab is a little like Satan – the way he always has the last laugh – like how he tells his publisher's assistant Erica that she stinks, to make her scream – and skips neatly away, job done.
TRAILER
The trailer for Satansbraten doesn't do the film any justice; it comes across as a somewhat sad, arty and aggressive film. Satansbraten is all those things, but what people most enjoy about the film when they come to see it are the comic depths, the blackness of mood, the madness and the insane allegories presented concerning art and politics.
In fact most of the trailer shows Kurt Raab abducting Ingrid Caven and carrying her to a deserted orangerie; and there is so much more domestic, artistic, and public madness to this excellent movie than just that. Over that scene I would recommend the scene's in the publisher's office; any of the scenes in which Kurt Raab is morphing into Stefan George; any of the scenes with Y Sa Lo, and any of the farcical domestic scenes, especially those with the policeman Ulli Lommel, or Volker Spengler, as the fly-raping abberation of a brother.
Satansbraten shows art as madness and a cult, as a whim and as something that nobody appears to be able to take seriously, no matter how much they try. As you'll see form the trailer, art is here revealed as a constant barrage of violent acts, unruly antisocial desires made real, in botrh criminal and mentally unstable fashion. It's genius, and it's Kurt Raab who makes it so.