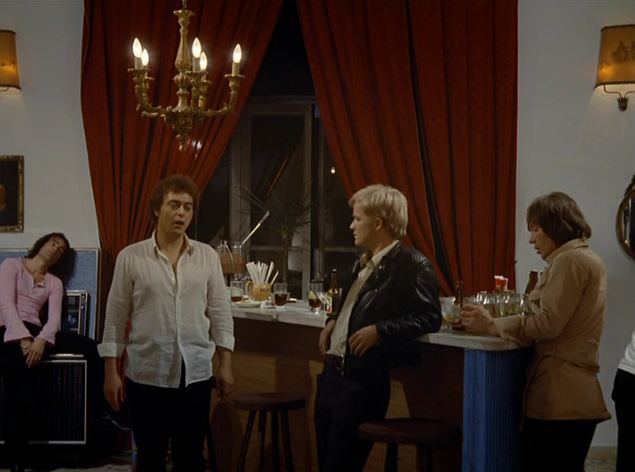 Kurt Raab (as Fred), here in Beware of a Holy Whore, wearing a ridiculous hairstyle, is struck high and dry on this endlessly boring movie shoot, with nothing better to do than drink all day and shout at the Italian hotel staff. I say Italian, because although Beware of a Holy Whore (1971) is set in Spain, it was shot in Italy; in fact it's a super-lingual mix, even late at night when Raab (who has gone to bed and gets up again to re-join the drinking) bursts in on Lou Castel reflectively quoting the title of Fassbinder's first film – in French – while David the soundman disagrees.
I can never quite understand Kurt Raab's song in Beware of a Holy Whore, but there is often a fair amount of religious sounding singing in early Fassbinder. True, respectably miserable hymns never go out of fashion and are always going to suggest some kind of irony; but it is how the long day of the first half of the film closes, after about 55 minutes that have largely been shot in the deathly foyer of the production team's hotel.
Raab's role in the film was his own role in real life – art director. The men – homosexual or not – have more control and command than the women, and indeed seem to have all the important jobs – which often, as in the case of Raab for example, merely involve posturing in various rooms and delivering orders.
Raab has a comic way of trotting into camera and he is always one of the strongest and most dedicated of the team.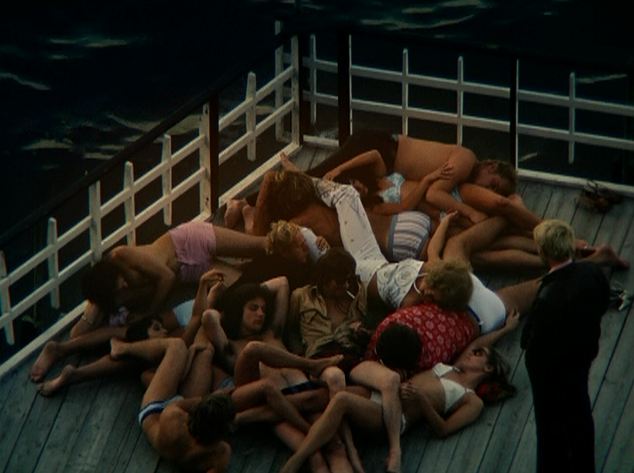 At the close of the film Ulli Lommel offers yet another olive branch to the truculent director, and a few kind words. His rejection is immediately followed however by Kurt Raab's momentary hug; everybody craves the director's attention and the irony is that Raab's character, a babyish fool who does little but rant and rail, can command such respect.
In this trailer you'll see Ingrid Caven talking to Fassbinder; then Lou Castel shouting some directions at the crew before a shot with himsrlf and Hannah Schygulla; then you'll see a shot of Kurt Raab.
Like a few choice others in the Fassbinder crew and collective, Kurt Raab both came into his own for a brief spell, and also produced some rather confused work after the death of Fassbinder. Here he is singing in a crazed fashion with some German rockers in 1984, and carrying out a short interview. Raab aged very well indeed as you'l see, although it would only be four years before he died; he made so many films in the 1980s, and plenty television, and his talents were never ignored. At the end of this clip, it even appears that he's bullied a little by the band