How Much Wine I Drank in One Year
Ancient cultures considered the drinking of unmixed wine to be barbaric. (SEE THIS FOOTNOTE FOR MORE)
Thus, a Greek or Roman who drank unmixed wine was likely to be a drunkard or a glutton, and so at the very least, water was added, usually on a 50 / 50 basis with the wine. In deference to this ancient code, I often mixed my wine, although sadly I usually mixed it with beer — sometimes adding a couple of vodka and cokes as well. Mixing them in the same stomach as it were.
Often my good friend participated in this, appearing at my door with a smile — a smile being code for Let's get drunk. There was no harm in this, and the obvious pleasure combined with the trivialising of my woes, was repeated several times each week.
Having accorded wine a status above all other manmade liquids — neither beer nor hard liquor carry its religious significance, as they are not made from grapes — drinkers often feel a religious tinge before the first glass of wine, and often again, just after the last. After our last glass of wine we go to bed and our dreams carry us to our work the next day, somewhat seedy, but pleasantly unaware of most things.
Over the passage of one year I drank approximately 25 litres of wine, which I am surprised to calculate is just over half a glass each day.
Can it be so? The Supper Book says that it was. The itemisation of these litres was as follows:
2 x 750ml bottles of Gato Blanco Chile 2002 Chardonnay
1 x 75cl bottle of Villa Pani 2002 Frascati "Superiore"
12 glasses of South African Chenin Blanc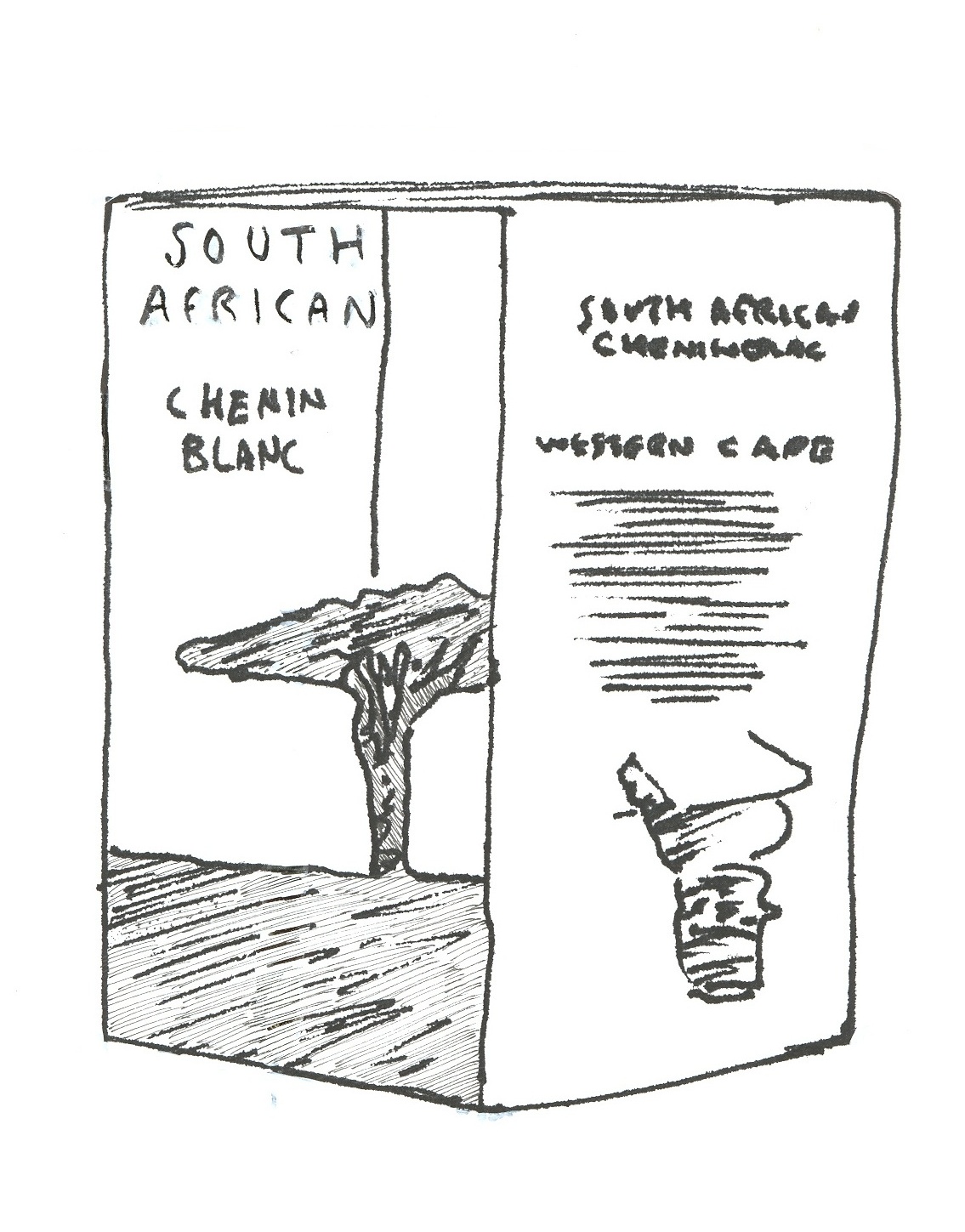 An attachment develops between a drinker and their box of wine
1 750ml bottle of South African Chardonnay
1 750ml bottle of 2004 Sauvignon Blanc Chardonnay Chile
1 750ml bottle of Les Janelles Réserve Viognier Vin de Pays d'Oc 2003
1 x 750ml bottle of 2002 California Colombard Chardonnay
1 x 75cl bottle of Chilean Merlot 2004
10 glasses of Gato Negro 2002 Merlot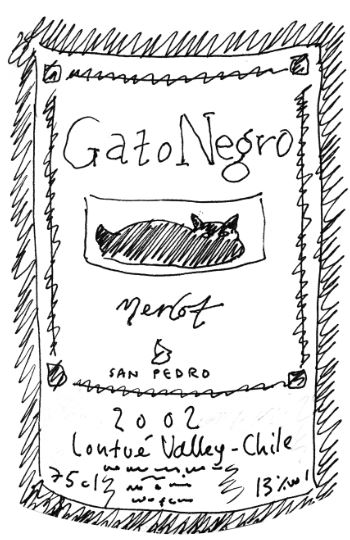 Label from Gato Negro Red Wine

4 glasses of Kumala Ruby Cabernet Merlot
4 glasses Kendermanns Pinot Bianco 2002 white wine
4 glasses of Lawsons' dry Sauvignon Blanc
3 glasses South African white wine
3 glasses of Sainsbury's Chilean Central Valley Sauvignon Blanc
3 glasses of DUMiSANi, 2002 South African Shiraz
3 glasses of "Two Oceans" Semillon 2003 Chardonnay
3 glasses of 2003 Western Cape Chardonnay
3 glasses white wine Marlborough Villa Maria Sauvignon Blanc 2001
3 glasses of Brown Brothers 2003 "Estate Bottled" Chenin Blanc
3 glasses of Hardy's "Voyage" unoaked Colombard Verdelho, Chenin Blanc 2003
3 glasses of George Duboeuf vin de table rouge
3 glasses of Kumala Reserve Chardonnay 2003
3 glasses of Muscadet et Sèvre et Maine
3 glasses of Louis Jadot Pouilly-Fuissé 2002
2 glasses Semillon Chardonnay 2002 Australia
2 glasses of Villa Merria New Zealand Private Bin Sauvignon Blanc 2003
2 glasses of red wine of unidentified Spanish origin
2 glasses of Labeye 2002 - Grenache Syrah
2 and a half glasses of Italian Pinot Grigot
2 glasses of Marlborough Maria Sauvignon Blanc 2003
1 750ml bottle of Co-op Nero d'avola, Frappato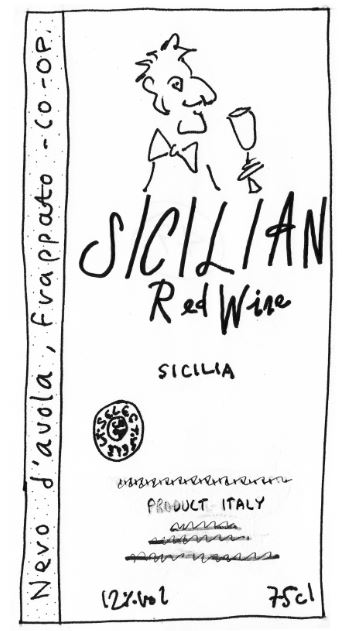 Red Wine Label from Co-op
(FOOTNOTE: BOSWELL AND JOHNSON ON WINE IN SCOTLAND BEFORE AND AFTER THE UNION ACTS)
1 glass of red wine Château du sers Lalonde de Pomerol
1 750ml bottle of Cles Pioch de la Croix St Roch Vin de Pays de la Bénouie 200
One glass of Cuveé Louise dry white French wine
1 glass of red wine "Primitivo Sangiovese"
23 glasses of white wine of unknown origin
10 glasses of red wine of non-specific nor identified origin
1 glass of Spanish white wine
1 glass of Sauvignon Blanc
2 glasses of Chardonnay white wine
1 glass of unidentified Spanish white wine
19 glasses of Freixent Traditional Method Cava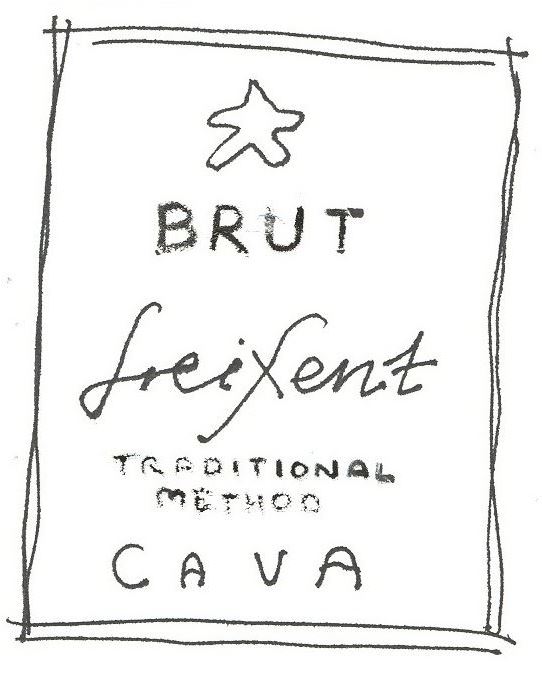 The Pronunciation Escapes Me
2 glasses of Heidseich Heritage champagne
2 glasses of unknown Champagne
2 glasses Charles Heidsieck Brut Reserve Champagne, mis en cave 1996
2 and a half glasses of Pol Roger Champagne
1 glass of LeComber et Fils SJP champagne
1 sip of unidentified sparkling wine