Alec Guinness colourless and sympathetic; Dirk Bogarde dashing and evil. Both are at their best in Lewis Gilbert's superior maritime movie, H.M.S. Defiant, released in 1962.
Defiant tells a tale of press gangs, Napoleonic sea battles but like all good fayre, hones in on one human story, in this case the ship-bound conflict between two men of vastly differing passions.
Film makers, studios and everyone in between are in part responsible for writing history. I'm talking about the presentation of myth as much as the actual tendentious lying and re-presentation that goes in biopics and other 'true stories'. Even if films that are not true stories, such as HMS Defiant, the viewing generation still buys truths from motion pictures.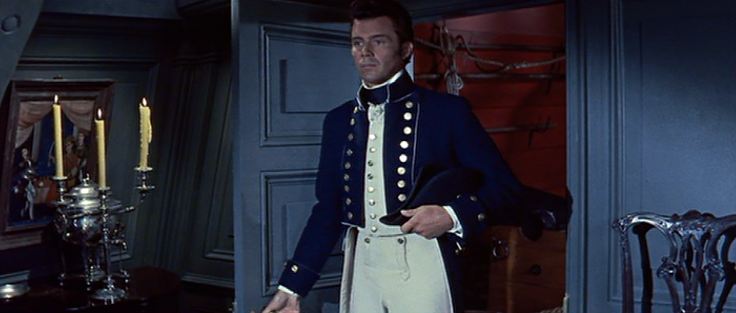 A Defiant Dirk Bogarde in 1962
There was a time for example when the subject of the press gang was presented fairly regularly, as it is in the opening scenes of HMS Defiant. The story of HMS Defiant, otherwise known as Damn the Defiant for US viewers who may not have understood the three letter suffix, is based very loosely on various mutinies and strikes that occurred in 1797 aboard British war ships.
Most of these short-lived rebellions were about spreading French revolutionary spirit, a thing that needed full-on quoshing at the time, but which is displayed in Anthony Quinn's character, a sympathetic seafarer who insists every time we see him that he is not a mutineer — just an honest man seeking an improvement in working conditions.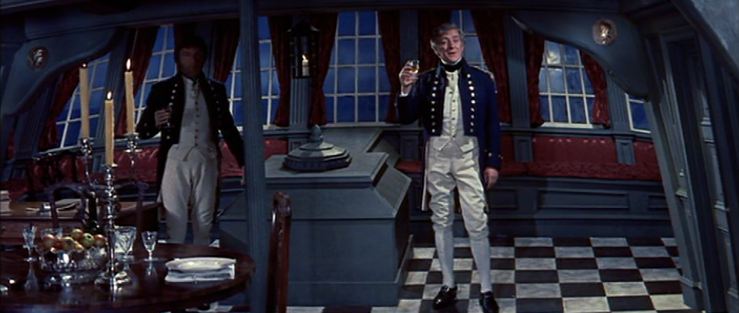 Alec Guinness in H.M.S Defiant
Lewis Gilbert here is definitely partaking of and creating zeitgeist. A film like HMS Defiant bears a startling resemblance in its look and editing to both Carry On films and Hammer films. Underneath its matte painted exterior it appears to be innocently peddling three stories, a naval rebellion, a war with France, and the battle between two men. With nasty living standards and spoiled food, H.M.S. Defiant is a film that tries to present an unpleasant view of life on a naval ship, and Guinness and Bogarde in particular keep the audience in such close quarters that the claustrophobia is effective, to the extent that you find yourself knowing the ship quite well.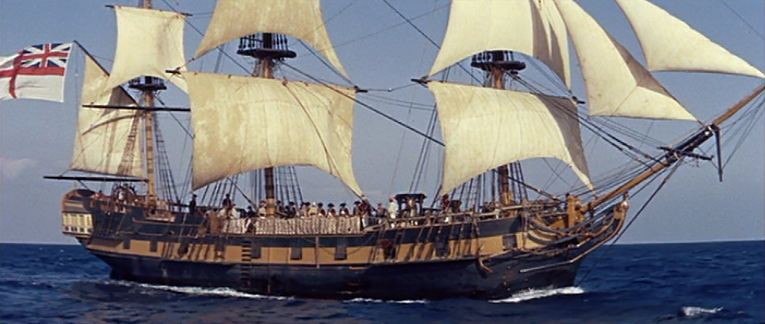 It is a powerful film that takes you below deck and plants you deep within the world, giving you the details of a mutiny, the engaging warfare that takes place, and the destructive nature of both a good captain and a violent one. The underdeveloped story forces you to try and understand why the press even occurred, but as I say, it is simply a part of British myth.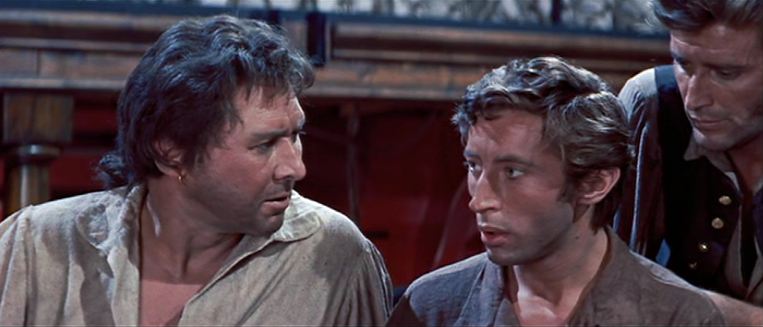 Anthony Quayle and Murray Melvin
What to expect: press gangs, taverns, yardarms and Navy floggings at sea. Cabin boys, scenes below decks, clinging from the rigging, cannon broadsides and tension between the Captain (Alec Guinness) and his sadistic second in command (Dirk Bogarde).
Added as a surprise: the backstory of a Navy 'petition' to the admiralty for better conditions — it's not a mutiny, it's a petition, and a consequent attempt at social criticism; a neat father and son story from Alec Guinness and his boy.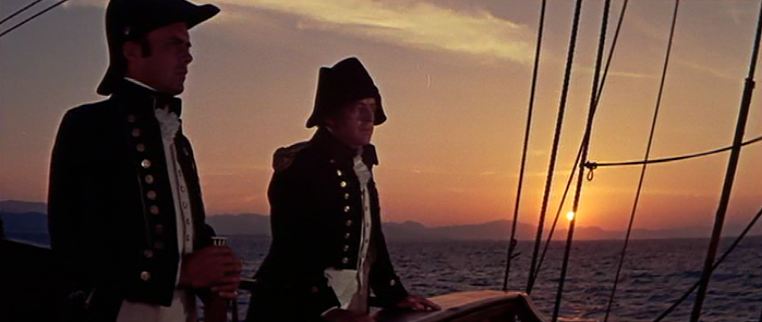 On balance, the what you can expect side of the scales weighs prettily heavily and the unexpected aspects suffer a lack of context and directorial enthusiasm. Everyone likes to film a battle, but these are the scenes you'll want to fast forward. Naval battles are difficult on film, although in HMS Defiant a fair amount of expense has been made, so there are real ships and genuine pandemonium, even if it's not as bloody as the real thing.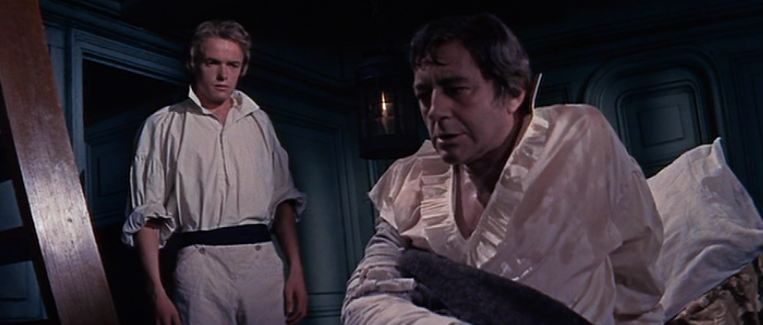 Bonus Feature! James Bolam in early role has a couple of scenes with Alec Guiness.
The Wikipedia article on HMS Defiant is here, and the poster image used for this article was sourced at Wikimedia Commons, here.
This image is copyrighted and used here under use rationale or fair use rationale, in a way consistent with Wikipedia's non-free content criteria.