Certainly, Lou Castel's character Jeff, the director in Beware of a Holy Whore, is an imitation of Fassbinder himself. Indeed, the leather jacket is a great give away, and then there is the shouting and the flinging himself physically on to the nearest person for comfort.
Having established this, it remains to be seen if Lou Castel can be more Fassbinder than Fassbinder; a tricky feat indeed; and it is a strange thing in the scenes in which the two men appear, that Fassbinder seems to have much more stature than the guy that is supposedly playing him.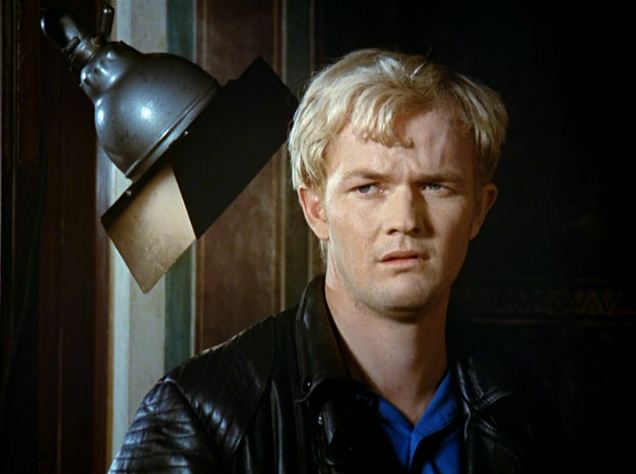 To get the full measure of the impression, see the scene in which Lou Castel meets his lover Ricky Fassbinder is there, a man who seemed to have relationships with most of the cast at some point, and we have a dramatic representation of the same thing; and then with music; and the funeral music (the death of another brief, but obviously intense relationship) when Jeff moves from Ricky to David, is just great.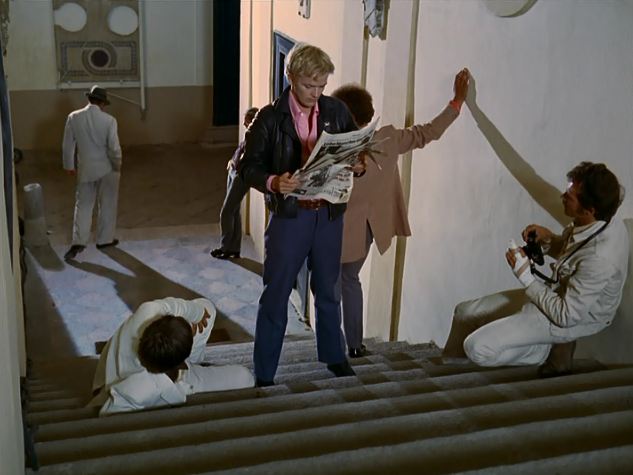 Lou Castel's character is a horrible pastiche; an insecure and talentless dictator, who still has power over all around him; enough that every room he goes into, there is someone ready to give him a cuddle, which he accepts like a baby.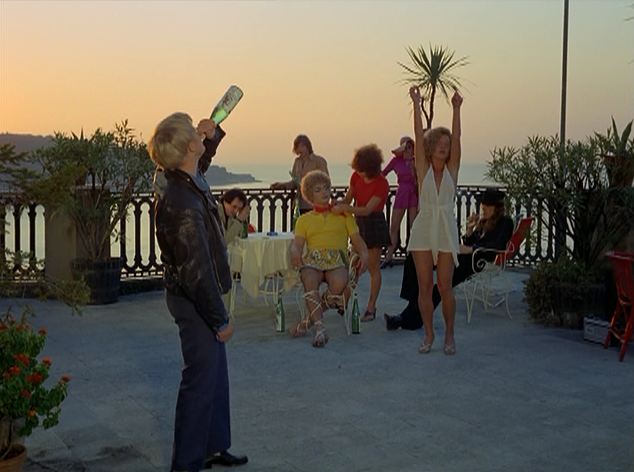 My favourite act of directorial petulance in Beware of a Holy Whore is the summation of the first 23 minutes of story; the entire cast and crew waiting for the film stock to arrive from Germany, but it doesn't. When producer Karl Scheydt orders the same film stock from Spain the director goes crazy saying 'I'm not working with Spanish material!' – despite Kodak being Kodak the world over. It is this level of simplicity that makes Fassbinder stand out. There is simply nobody else that could make such grand drama and comedy out of so little.
The other difference between Castel and Fassbinder is that Castel, almost helplessly, has movie good looks. He's not in the ranks of James Dean (as Armin Meir was later to pull off) but everything is very much in place. I love the way in fact that throughout this Lou Castel looks like a petulant boy of aged about 14; it's very funny.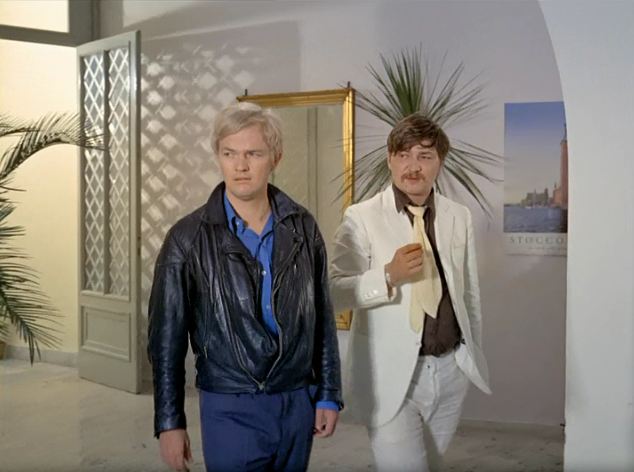 Jeff the director dreams very well and that is important in an artist. He imagines drinking in a bar in the desert with Marlene Dietrich; and the others are happy to humour and comfort him; in fact it's all about comfort and tantrum for Lou Castel as Jeff; a reminder that here everybody is a baby or small child at heart.
Near the close of the film, Castel's performance as Jeff becomes crazier still, to the point of his being entirely unrealistic, blaming everybody (whom he calls 'bloodsuckers') for the inactivity of the production, and the dashing of his cinematic dreams. His screaming response is to demand 10 Cuba libres.
The final shot of Warnung vor einer heiligen Nutte is a tableau, much favoured by the art director crowd, I know, but not overused by Fassbinder. In frame are Eddie Constantine, Hannah Schygulla, Lou Castel, Hannes Fuchs and Fassbinder – and it builds to Castel's uttering of the immortal line 'I guess I won't be content until I know he's been completely destroyed,' a line from the film within a film, but referring to what is not entirely clear.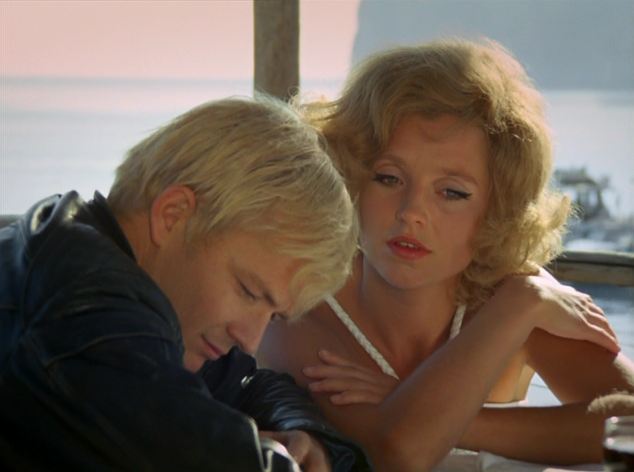 Theories on a postcard I guess, to Rainer Werner Fassbinder; although it seems pretty likely from the intense stare, that this is Fassbinder having Castel talk in turn about Fassbinder. He liked his jokes like that.