Despite being one of the strongest of the anti-theater crew, Ulli Lommel sometimes looks the least comfortable in Fassbinder productions. Of course, as a director, Fassbinder can use that as a strength, so when Lommel (playing Aufnahmeleiter Korbinian in Beware of a Holy Whore, 1971) strides proudly in, seeming straighter than everyone in the room, he is marching gleefully into being shouted down, and before he has even had a chance to deliver his first line, he has been called a stupid cow.
Everything in Beware of a Holy Whore serves to remind us that film is a cruel place – holy to some, obviously, but generally cruel. Lommel's job as the bullied individual ('everything I do is wrong') is really very funny, as is the fact that like Kurt Raab, the normally charismatic actor appears to be having a bad hair day. The fact is that Lommel's charcter isn't tough enough for moviemaking; 'everyone thinks they can push me around' he says, and walks off glum; although everyone is pushing everyone around all the time, as much of it as they can get away with.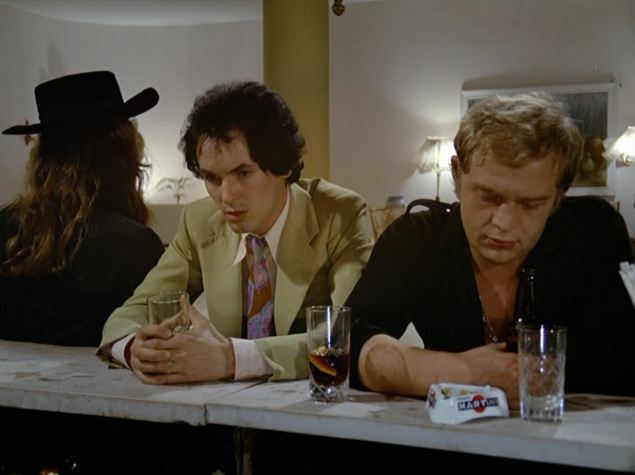 As the new day dawns on the second half of the film production, Ulli Lommel passes, hangdog, carrying a tray of juices – nobody says thank you (excepting a Mario-looking technician). It's unnerving how Fassbinder can get his concerns about dictator-style leadership across on a film set, and with so little effort. It is pathetic for example when Ulli's character says that in two years, he will be making his own films – he isn't the only one to say that – because it seems so impossible that someone so low in this indolent pile of humanity should even dream of rising in rank, far less so far.
How depressed is Ulli Lommel's character? He is indeed sick of his life and his job. The day's shooting seems to end with no film having been shot, and Ulli Lommel and others back at the bar, smoking and lining up the Cuba Libres. As Unit Manager, Lommel's character is unhappy, unsure, and certainly downtrodden, although as he says, he enjoys it that way, even from his own wife. 'You can treat me as you like,' he says to director Lou Castel, 'because everything you do has an artistic quality.'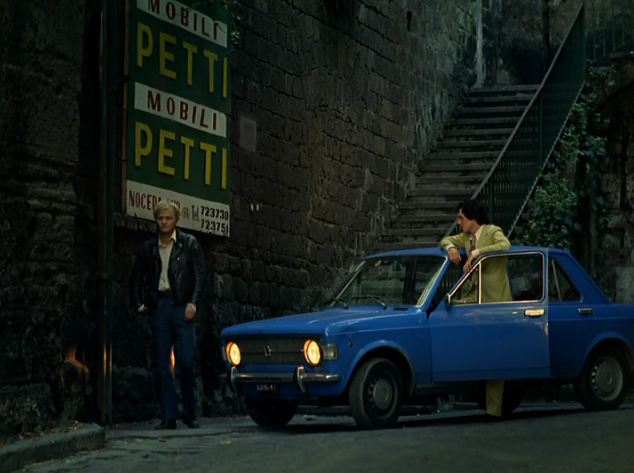 It's perhaps the nub of the film; it is one thing to bully people for social or political reasons, but that dictatorial methodology is found in art too, is quite sublime and terrifying. At the close of the film Lommel pulls up in a blue Simca to offer yet another olive branch to the truculent director, and a few kind words. It is however rejection all the way from Fassbinder friends, family and crew.