One of the undoubted highlights of Rainer Werner Fassbinder's The Niklashausen Journey (1970) is a free-spirited jam from Krautrock pioneers, Amon Duul ii. The band, who sound pretty much the same today as they did back then, were true revolutionaries. It's at the moment that Amon Duul ii appear in this movie that we know we are dealing with montage, as opposed to narrative, and it's this jam seession that will probably oblige you to give in to the idea that in this film, not a lot of it is going to make traditional sense. This scene follows a very strange and rather elementary Marxist lecture, delivered in an empty quarry.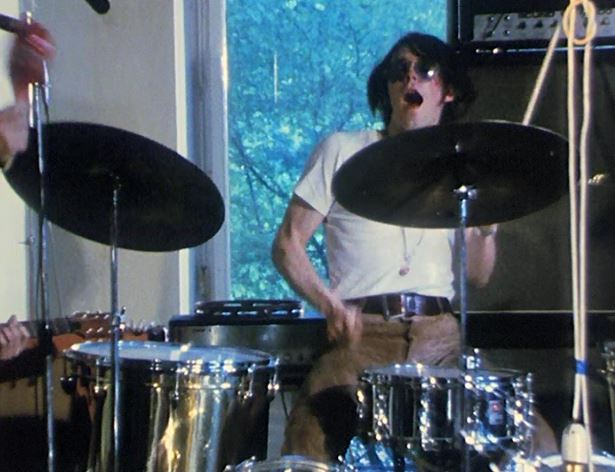 Featured in this jam are band members Chris Karrer; Peter Leopold; Falk Rogner and John Weinzierl. And if you ever wanted documentary evidence of the West German commune scene of the late 1960s – the same local scene that unleashed so much experimental art and politics – including the Red Army Faction – then here it is. Whatever you say about The Nickelhauser Journey then, it provides more contemporary feel than any other West German film of its period, simply because Fassbinder made the wise decision to film what was around him. In doing so he caught the heights of the cultural madness that gave us msuic like this, and wonderful stuff it is too.
IN THIS CLIP: Look out for: INGRID CAVEN (sipping a drink and wearing a pink top); GUNTER KAUFMANN (recling with a cigarette in a bed of women, in the manner to which he became quickly accostomed); and near the end of this clip you'll also spot RAINER WERNER FASSBINDER himself, also lying down, also smoking.
Amon Düül II perfroming in Die Niklashauser Fart (1970)
Although the band were founded at the Amon Düül art commune in Munich, they outgrew that quickly. Initially, the purpose of the band was that everyone who lived there joining in to play music whether or not they had any experience or ability. When the commune split and the band were offered an opportunity to record the band confusingly split into what was to become Amon Duul and Amon Duul 2.
Initial recordings were boycotted by the more musically proficient members of the commune (who went on to form Amon Düül II). Recordings were made by the other members but were of very poor quality and were only released later (under the name Amon Düül) to capitalise on the success of ADII's albums. As Amon Düül II grew and personnel changed they still remained a commune, living together as a band.