Nobody much savaged Disney back in the day, because none of their world-offending tendencies had really manifested themselves yet; not quite in the eyes of some however. Deiters, Fotograf (as Werner Schröter) who commences Beware of a Holy Whore, offers a beguiling speech, which will initially tell a viewer; if the rest of the film is going to be like this, we are in for an awful evening. And largely: what the hell does this have to do with anything at all?
There is a lot in the delivery, particularly in the way Schroeter seems to show little interest in what he is saying, and seems to forget or require a prompt from time to time; and then there is the meta-kinetic suggestion that you may hear the sound of the film running; but then this is one of the great metafilms of all time, even if it is close in spirit to Godard's Le Mepris, it's spiritual forerunner. The story (which is of course also confusing) concerns Goofy looking after a gangster called Wee Willy, confusing him with a little girl. The joke is that even after Wee Willy is arrested by the police, Goofy still can't see that she is a little girl, indicating… what? Well, it's hard to explain if you weren't around at the end of the sixties and close of the seventies, but as a barometer, Schroter's opening scene is good; if you hate it, then leave now; this film about film is going to become more annoying for you still. If however, you are asking questions, are intrigued or are even enjoying the metal frustration, you had best sit back and get comfortable.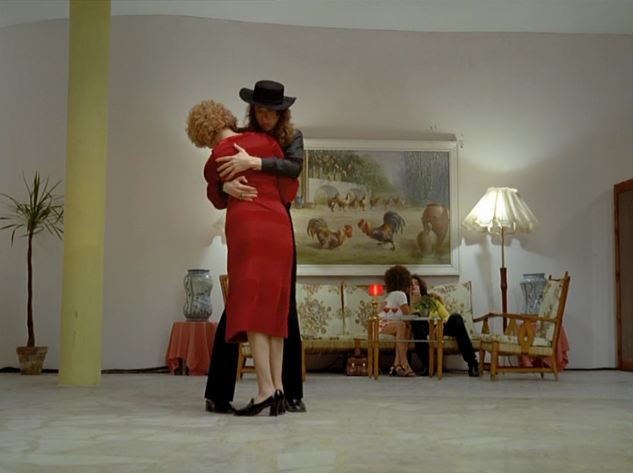 As the film progresses, there is yet more fun from Schroeter, notably his smooching of pallid doll Irma, played by Magdalena Montezuma and, and his description of the ubertrip that all users are waiting for; by the end of the film I am generally convinced that Wener Schroeter is pretty much furniture in that wide black hat of his. Certainly there are scenes in which his presence, still and beautiful, simply livens up the camera shot.
How Fasbinder loved to shout; and maybe the German language is especially geared for it, for it loses nothing at volume. Fairly near the beginning, when he comes to call for Snr Candy, the unit manager, results are typically manic. Kurt Raab, who is good at playing the obsessional lover, smothers the man's waistband so that the poor man seems embarrassed; but this is dictatorial living. Being foreign in fact makes it all much easier, and being small in stature seals the deal. That's Benjamin Lev.