Barbara Valentin (1940 – 2002) could be the star turn in Fassbinder's Effi Briest, for several reasons, the least of which her good looks, her acting and her singing voice. But in this Fassbinder dubfest, I'll have to decide later if that is really her singing or not. Also, she is dead sexy, very difficult in C19th Prussia, and this elevates her character Marietta Tripelli, the singer, into something special.
As Effi says of Valentin's character, it applies to Valentin too: most of all you admire the calmness with which she performs. She gives a brief speech on progress and enlightenment, in light of the invention of the gramophone; Fassbinder says watch out for the proto-Nazi; he'll find them in every piece he does.
Barbara Valentin made plenty of films, including Horrors of Spider Island, her second film, and released in 1959 — but she does deserve special mention for several other things. For example, during the 1980s she was romantically linked to Freddie Mercury.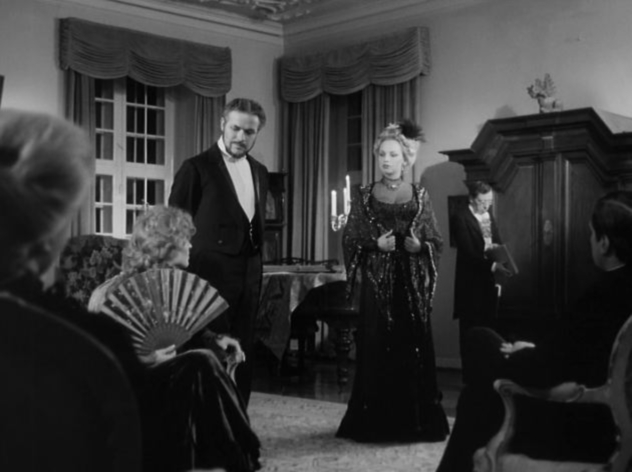 Horrors of Spider Island was a German-Yugoslav coproduction released under the title Ein Toter Hing Im Netz. The story is about a talent agent who escorts seven gorgeous chorus girls to a club date in Singapore, but en route their plane crash-lands in the ocean. The girls make their way to an idyllic island, where they come across a huge spider's web-and when the giant spider sinks its teeth in the talent agent, he turns into a werewolf. Like a lot of films of its era, it's been recut and retirled a few times, but none of these seems to have improved its fortunes.
Thinking of Barbara Valentin in Effi briest, I can always return to her screen-power — something of the Diana Dors, combined with those Teutonic genes — and well, a legend in the making.
This also looks of interest, and features several Fassbinder actors.