In a chilly, half-built brick room in an unfinished house, two actors pace up and down, answering what seem like basic questions on the nature of revolution. This is beginning at the beginning, with some elementary Marxism, certainly and obviously in 1970 leading up to the question of why the revolutions of 1968 failed. Hannah Schygulla is one, Rainer Werner Fassbinder the next, it's 1970, and time for the Niklashausen Journey.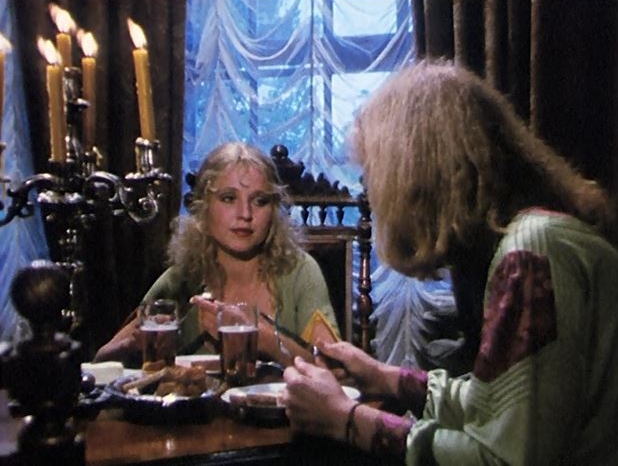 Hannah Schygulla and Michael Konig
If there is no party to prepare the groundwork for the revolution, but only a cell of 3 or 4 people, these 3 or 4 can form a vanguard and must try and create the basis for that revolution, by agitation and setting an example — this is at least the theory that is proposed. These are the actors, and there is no space between them as creators and their characters, and in attempting to make this film, a revolution of a sort is intended.
To get a sense of what the Akton Theater of Fassbinder's day would have been like, look no further than the scene in which Schygulla and Fassbinder rehearse some revolutionary polemic, out of character and watched by Michael Gordon and Günther Kaufmann. It's proof that this film will spark crazy thoughts in your imagination, when you see what the possibilities are.
One of the great things about this movie is the irresistible pull of melodrama on Fassbinder. Hence, in the midst of a movie about medieval peasant revolution, Marxism, and featuring experimental acting and camera, there is a man and wife dinner table scene bang in the middle. It is typically lovely of Fassbinder; she is a mere wife, slightly rejected; he is an egomaniac male. I think it might also be Hannah Schygulla's best scene because she truly acts, in the best way she can and as she continued to do in so many Fassbinder epics. It's all about the quiet and the pace of things, and Fassbinder understood that too, so instantly good performances could be generated very quickly.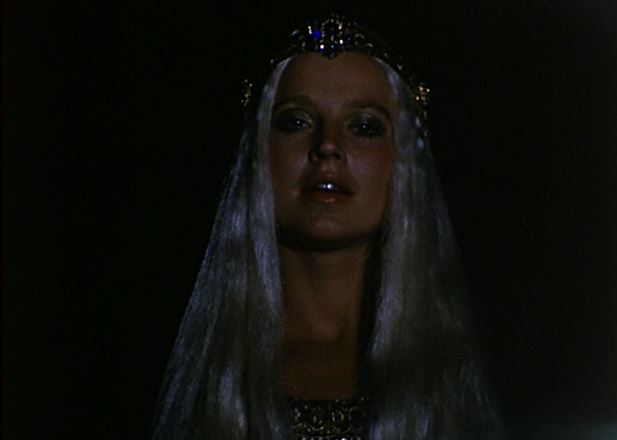 All of the actors present were familiar with revolutionary theatrical techniques, and had even helped Fassbinder develop some more of his own, and although it might be odd to see Hannah Schygulla spouting Marxism, she does it comfortably because it's the world she's been living in. It's difficult to say if this was her dream as an actress, because everyone here is marching forward in pursuit of Fassbidner's dream — which is the dream of a cinema of their own, where they can break boundaries and bring something real and new to the fore. Everybody was at it back in the day.
The Niklashausen Journey (1970) Gallery
{AG rootFolder="/images/" thumbWidth="200" thumbHeight="120" thumbAutoSize="none" arrange="name" backgroundColor="ffffff" foregroundColor="808080" highliteColor="fea804" frame_width="500" frame_height="300" newImageTag="0" newImageTag_days="7" paginUse="0" paginImagesPerGallery="25" albumUse="1" showSignature="0" plainTextCaptions="0" ignoreError="1" ignoreAllError="0" template="classic" popupEngine="slimbox"}film_stills/niklashauser{/AG}