The Fassbinder actors fall into two categories – those who loved him and whom he used in one manner or another – and those whom he respected and treated well. Hanna Schygulla, who most certainly fell into the latter category, was probably and consistently, the most talented actor that you'll see in Fassbinder's films – talented in her abilities as an actor, and in her charm, look and presence. Fassbinder's Liebe ist kälter als der Tod (Love is Colder Than Death) was for both of them, an auspicious debut.
Born in German-occupied Poland, Hanna Schygulla was raised in Munich, studying languages and literature at that city's university. From 1968, Hannah starred in 20 Fassbinder film productions, and when she appeared here in her first, she is seen undressing – yet another conceit nicked form Godard – in fact the undressing woman is one of his trademarks, stolen by Fassbinder, who toys with a gun in this scene and collects his pimp money, rather unconvincingly.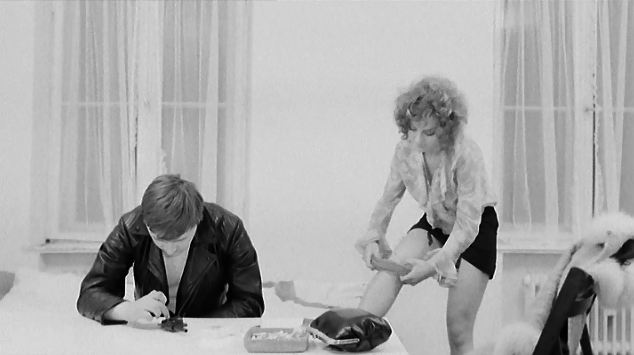 Rainer Werner Fassbinder and Hanna Schygulla
As I watch Hanna Schygulla in Liebe ist kälter als der Tod however, it would seem impossible for Fassbinder to ever disagree with her – her look – and more essentially, htr ability as an actress mean that she is virtually the only one in this movie who is driving the story – admittedly not of the most paramount importance in a medium and at a time when style was valued over content, art film, but valuable all the same.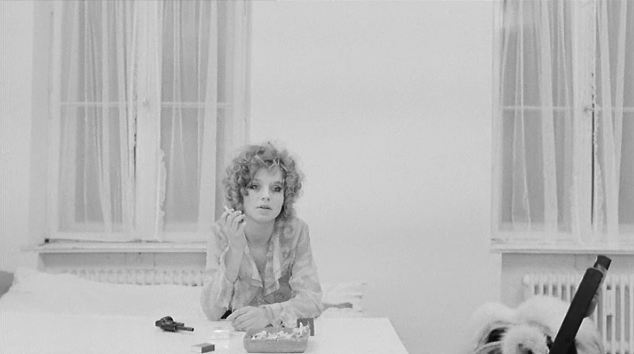 Hanna Schygulla plays both whore and housewife with equal beauty and conviction, almost going so far as to be groovy in the scene which she lounges about the house with her record player and two men-friends.
Liebe ist kälter als der Tod (1969) Gallery
{AG rootFolder="/images/" thumbWidth="200" thumbHeight="120" thumbAutoSize="none" arrange="name" backgroundColor="ffffff" foregroundColor="808080" highliteColor="fea804" frame_width="500" frame_height="300" newImageTag="0" newImageTag_days="7" paginUse="0" paginImagesPerGallery="25" albumUse="1" showSignature="0" plainTextCaptions="0" ignoreError="1" ignoreAllError="0" template="classic" popupEngine="slimbox"}film_stills/liebe_ist_kalter_als_der_tod{/AG}