Top 2000 Movies
Details

Written by Peter Burnett

Peter Burnett
Beware Richard Burton in Raid on Rommel. All the illict potentialites of alcoholic actors making TV movies will become apparent. You may like to know before watching raid on Rommel that the aerial footage and the battle scenes it included were leftovers from the film Tobruk (1966), edited into a different storyline. Even if you're paying the minimum of attention you're going to start to notice this towards the end, when uniforms, weapons and vehicles fail to match those that have already been established. At one point also Richard Burton disappears and George Peppard can be seen instead.
If you've watched Raid on Rommel of late, though, you may have done so simply because you wanted to see Richard Burton. Other than his presence there doesn't appear to be much to draw even the most committed collector of war films. It's difficult to find a kind word said about Raid on Rommel, anywhere, not just on the Internet but in biographies of Burton also.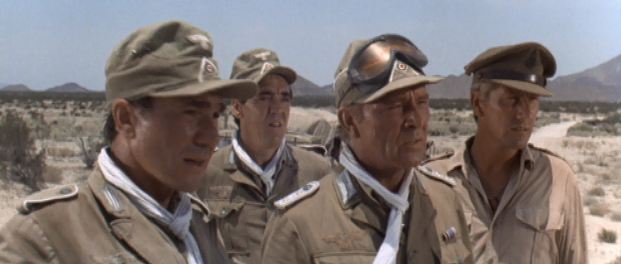 Raid on Rommel is criticised for incoherence, lack of historical veracity, and for poor scripting and acting, and in 2006 the Radio Times described Burton's appearance as his 'plumbing the depths.' I would have to largely agree that this wasn't a good move from Burton, but I am assuming that given the huge success and fun of Where Eagles Dare, not to mention his many other War films, he accepted the job without much thought.
It may indicate that on the whole, he was either not confident of his powers or not aware of them, because there must have been so many other projects he could have chosen. As an example, Raid on Rommel sits between his epic performance as Henry VIII in Anne of the Thousand Days and one of the his greatest appearances, as Vic Dakin in Villain.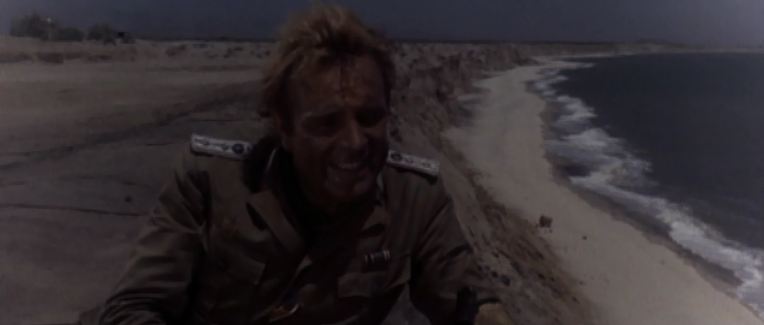 It's likely that Raid on Rommel didn't look so bad on paper. Director Henry Hathaway was known for some major alpha-male Hollywood hits, such as True Grit (1969) and How the West was Won (1962), and numerous other top class pieces, namely The Dark Corner (1946), Niagara (1953),Garden of Evil (1954).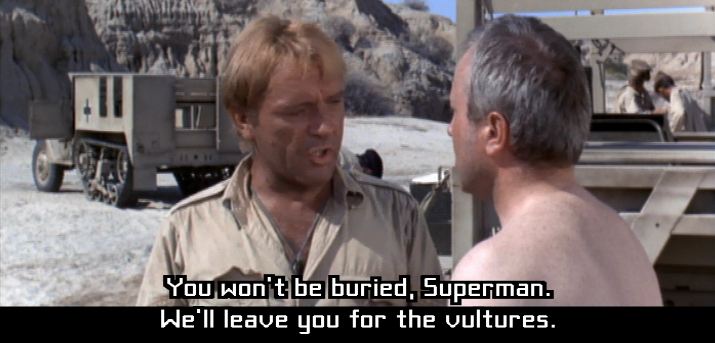 Searing Dialogue, great German from Burton, and crappy TV Subtitles
Henry Hathaway had even worked with James Mason as Rommel in 1951, in Rommel, Desert Fox, although his first feature film as director was in 1932. Perhaps then, Richard Burton thought nothing could go wrong, even though this was to be a made-for-TV movie using rescued stock from 1966. That said, the story of Raid on Rommel is way better than that of Tobruk, and is set up well in the early scenes, in which the blond Richard Burton uses some iced British corpses to hijack a German patrol.
There is supposed to be a dramatic tension between Burton's character (rough and tough intel-type of commando who goes behind lines for black ops — exactly as in Where Eagles Dare and The Wild Geese) and Clinton Greyn, who is supposed to be more sensitive, moral and less inclined towards these murderous gung-ho tactics. What I find toughest about Raid on Rommel (blond Burton aside) is that although it's supposed to be set in Libya, it is shot in both lots in the Hollywood hills and in the foothills outside of San Felipe in Mexico.
Richard Burton had just remarried Elizabeth Taylor a few days before this trip to Mexico and wrote in his diary:
"Two more days before I go to Mexico. Tales I hear of the place -San Felipe- are not too encouraging. Mean temp 113. Only two restaurants. Population 800. Shark-infested waters. Hurricane season. Only 33 beds in the whole town for visitors, most people living in caravan trailers and tents. No telephone. Only expert pilots can land there."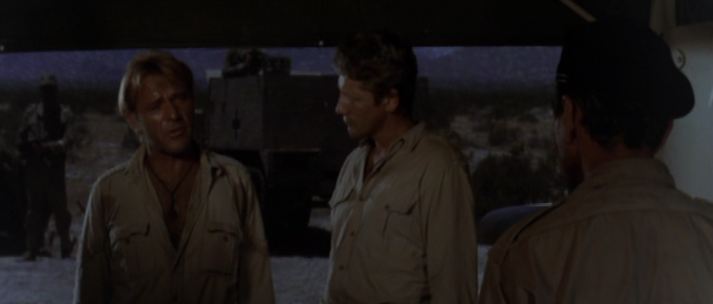 He'd also stopped drinking although this changed when Liz arrived from Hollywood with her own entourage. It is a fact that Burton considered writing to be the highest of all the arts, and even longed to be a writer himself, and he kept a diary which is exceptionally well written. Of that arrival he wrote:
"Immediately everybody started making cracks about San Felipe and what a terrible place it was and one would have thought they had attacked Pontrhydyfen. I was so defensive. Never has a man been so chauvinistic about a shithouse. I feebly pointed out the beauty of its beach, and lamely said the sea was wonderful. Kate said it was too warm and was like taking a hot bath. I lamely and bravely said that there were horses for hire. I said it was much more cosmopolitan than Bucerias [a town near Puerto Vallarta] which is like saying that Hell is better than Purgatory. We went in a sullen silence to dinner at Reuben's and it was as stickily uncomfortable as I'd ever known it or perhaps it was just the same as usual but I imagined it to be the worst night of the year and that the weather gods were conspiring against me."
Although I always look forward to seeing Wolfgang Preiss (who plays Rommel in Raid on Rommel) his characterisation as a the gullible philatelist and ego-maniac probably isn't necessary. Raid on Rommel is not a bad film by any means, it's just not distinguished, and it is let down amply by the setting and the cutting.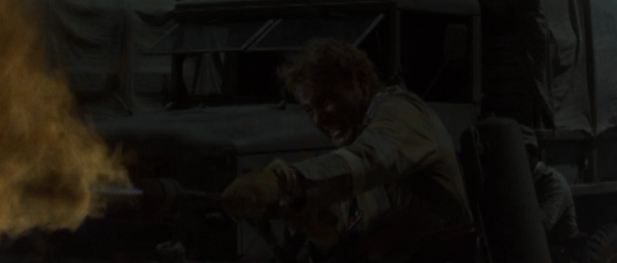 Burton Burning Down the House
Significant mention must be made of the scene in which Richard Burton gets to sue a flame-thrower, which he seems to really enjoy more than anything else, I'm sure it kept him on his toes, and also that he kept it away from his breath; and also of Danielle de Metz, who has a lousy role in a lousy film and manages to be about the best thing in it, and a far cry from the normal sex interest. She is pretty as you can see, and the camera likes her, but it's Danielle de Metz who is allowed to express the boredom of the scenario, and who can throw her hands up in frustration at all this masculine nonsense, certain that like her character, it's going nowhere. Even if she is sitting in the back of a truck.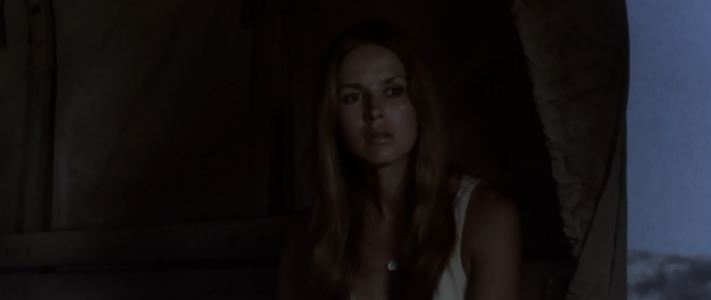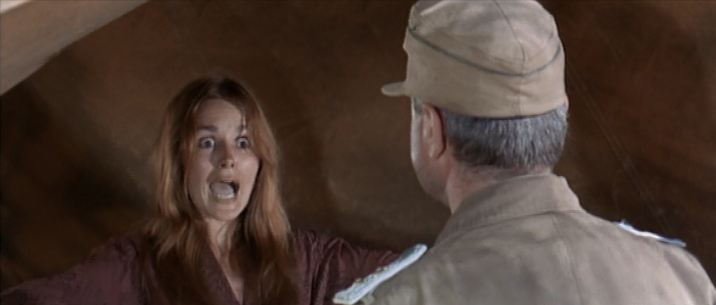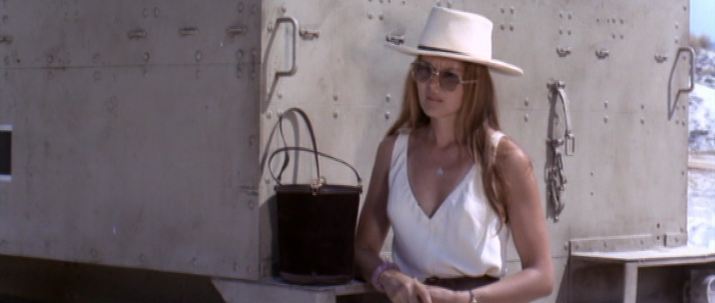 The story, for those that would like a teaser? As I say, with the help of some corpses Burton goes behind enemy lines to destroy Italian coastal artillery on the Libyan coast. The mission goes wrong and Burton is obliged to come up with an alternative plan that includes the destruction of the Afrika Korps fuel reserves using an ad hoc group of prisoners of war. Decent enough.
The scan of the poster for Raid on Rommel can be found on Wikimedia Commons here.