As news of General Pinochet's political evil in Chile rings over a deserted (yet to all appearances booming) Frankfurt skyline, we are fortunate indeed to have a look into what Fassbinder really thinks of WDR's 'economic miracle'; and we visit Gottfried John as Anton Saitz in an office building, which looks shining and glassy on the outside – but is in fact empty.
The building is introduced to us by an alcoholic, a pieces of human refuse who has nothing else to do in life but wait outside Saitz's building. Dramatically, we get the message quite easily – Saitz is a hard man to see, and an even harder man to get on with if you do see him. But underlying that is the awful suggestion that merely to come into Saitz' orbit is to becoming destroyed. It certainly happened to Elvira. The man is a former employee, although the suggestion is that he is still very much employed with (if not by) Saitz, as he stares at the office from ten til six, five days a week – not listening to anybody but himself.
Kollek is a very presentable and funny obsessional. He provides commentary to his mania, and acts as mythical gatekeeper figure on Elvira's quest, a most traditional role. He's able to furnish Elvira with a final few pieces of information, including which floor to find Saitz on (the 16th) – and he's also an important part of the mighty Saitz backstory, which builds until we meet the man himself. His story interests Elvira, who boozes quietly in the background while it's being told – preparing for the big meeting – particularly when she hears that Saitz, like herself, started out in the 'meat' trade.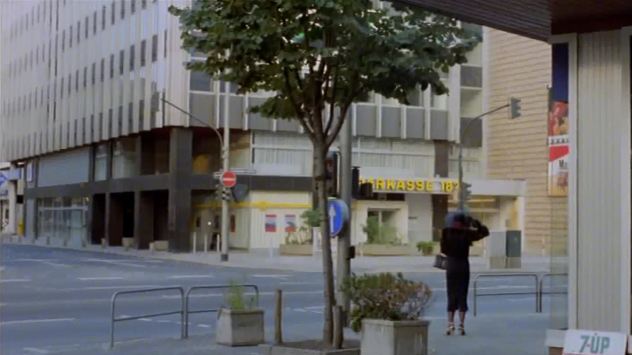 As a final note on this character, I love the way you notice as the scene goes on that the music to the action contains some pretty whacky birdsong, which echo as if through this guy's empty Kafkan brain Kollek's character is kind of Kafkan in his business attire, and his optimistic, unchanging stare towards the modern office in which he used to work – doing God knows what – as we are about to discover that the complex is all but empty.