One of Fassbinder's greatest strengths was his casting. Not that the vast majority of films made are poorly or inadequately cast – they are not – but with his low budgets and his incredible production speed, his correct casting must have saved him a huge deal of time and energy.
In In a Year of 13 Moons, Elisabeth Trissenaar (who plays Irene Weishaupt) has a most sympathetic role, and something quite straight, as the long suffering wife of Erwin/Elvira.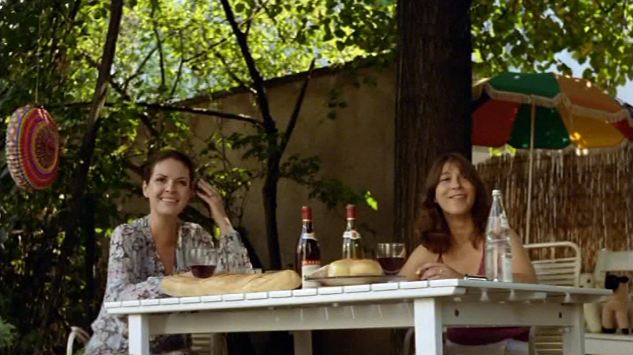 Elisabeth Trissenaar (left, with Eva Mattes on the right) also doesn't automatically fit into the Fassbinder mould. She's not scary, like Ingrid Caven; she's not peculiar or creepy, like Irm Hermann; nor is she an all-out character actress cum sex-package like Hanna Schygulla. In fact, by contrast, Elisabeth Trissenaar, especially here, as a distinct girl next door quality, that is in these surroundings, one of the most shocking aspects of the film – the way that she grounds it in reality. While we can argue away the crazy Anton Saitz in the film, and the sexual and emotional outcasts that populate the rest of the piece, into this comes normality personified, with a normal daughter, in normal German clothes, with a reasonable set of petit-bourgeois assumptions and prejudices. And that is all acting and casting, because Trissenaar isn't or wasn't particularly any of these things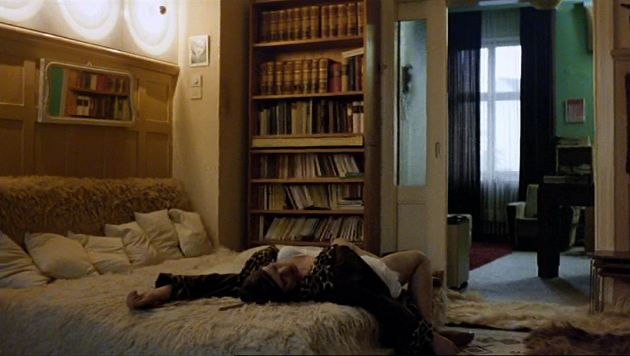 When Elvira is discovered 'dead' by Trissenaar the record is predictably stuck. Trissenaar as Irene is just such a housefrau here, it is lovely. Diane Keaton looks so much like her it is also a little disconcerting. And how could she have guessed she would be acting over such provocative and spooky music. We hear them twanging of concentration camp barbed wire as the dreaded figure of Anton Saitz is first discussed. Funnily enough, in this scene we see that Irene still blames Saitz though Elvira has come to terms with his operation in Casablanca. When she cuddles Elvira and cries it goers to show that in the loveless world of this film, there's actually heaps of love going around.