It's true that there are not many internet pages devoted to German photographer, actor, lighting man and technician, Peter Gauhe; but that is about to be rectified. It is of course typical to Fassbinder and his ever evolving team, that participants in his movies be multi-disciplined, something that first expresses something about himself – he was actor, editor, camera-man, director, producer, lighting engineer and many things himself at some point or another.
On a less obvious note however, Fassbinder's encouraging of people to multi task expressed and guaranteed a few other factors; first, that the team could work quickly and improvisationally (he liked that); and second, that people should not be so pigeonholed anyway. If one was interested in making cinema, he would have argued, then why should they not be familiar with all aspects of it?
This is a far cry from the typical egotistical realm in which of course, everyone wants to direct.
When I first saw Peter Gauhe appear in Beware of a Holy Whore, I thought he looked most like Armin Meier – but that may just be a trick of my own expectation. Gauhe appears in the penultimate set piece in the film, as a journalist who asks director Lou Castel a few questions about cinema – receiving the typically nihilistic answer: It's a film about brutality; what else would one make a movie about?
What can we say? There's a lot of youth and inexperience in that line, and a lot of confidence too. There's also a fairly plain assertion that.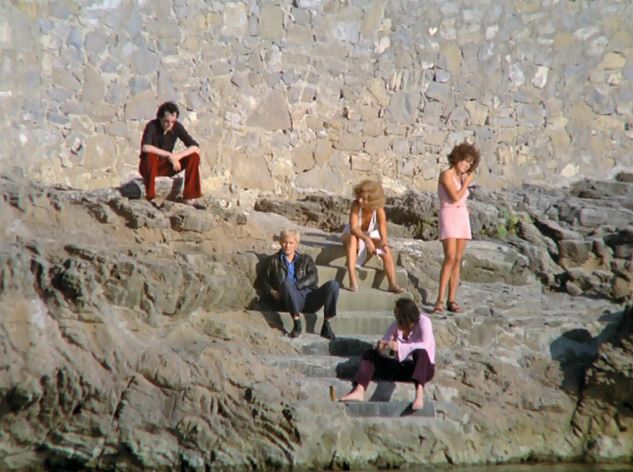 As Peter Gauhe photographs the exhausted director, the scene around him dismantles, very carefully, and with each of the seven actors involved leaving one by one. The backdrop to this is Castel reading a fairly sensational article from the Munich newspaper that Gauhe has brought; yes there is a picture of himself in the newspaper, but as if to corroborate the whole idea of the unpleasant spectacle of the media, Castel ignores this until he is left alone on the stairs.
He has his index finger curiously in plaster, but I guess we will never know why. Peter Gauhe today operates in a Munich film and video equipment rental.