It is good that Fassbinder worked with just about every German actor of his and other generations, and although Brigitte Mira made many pictures with him, Helga Feddersen also had a long pedigree and had been acting on screen and in the theatre since the 1950s. Perhaps this made her a good choice for Fassbinder for this movie, immersed in that decade as it was.
Although Feddersen spent most of the 1980s writing, this was a great part for her that she played so well – another guignol from Fassbinder, a nervous, fawning but very likeable secretary. Helga Feddersen as Frau Hettich is so admiring of her boss that it is hilarious, as he flings the unsorted paperwork around the room and announces his new time schedule, she is literally swept off her feet. In the next scene, in which she is the only woman in a fusty room of corrupt local officials, she seems so proud. The camera spins dizzily around the table of swine while they talk about the amazing rebuilding of Germany, and how to make money out of the vacant spaces still in the streets, and she is as dippy as an English music hall dame, a caricature of impressionable joy.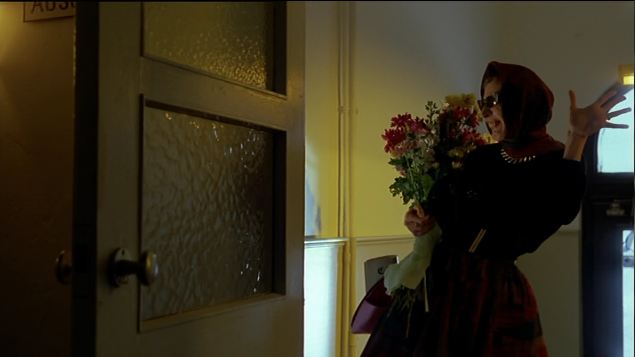 As the film goes on Helga Feddersen as Frau Hettich seems to by revealing more, simply by holding back. The office (bathed in green light to compliment the film's overall crazy colour scheme) is where she spends most of her time, and it is her temple to her employer also. A good mark of a strong actor is the amount of information they can relate to you; and even half way through the film you know so much about this women, even if she is a relatively minor character. Later the green colour associated with her takes over and she is seen working in an entirely green booth, where strange light effects abound.
Hettich is Von Bohm's main confessor by the end of the film. He has let go, and driven himself to distraction in his office, and she is there for him, like clockwork, ticking too fast, bathed in green light, smiling toothily and craving affection. Her admiration of her boss is very funny indeed. This is a man hurt in love, and when that happens we resort to some infantile state of madness, where our job means nothing and everything else but ourselves seems mad. Hettich is mad too; mad with grief that her boss is losing it and may be leaving her, as her last boss did.
Watching Lola I always want to see more of Helga Feddersen, but there isn't a lot there to be had. Feddersen died in 1990 aged 60, which is far too young indeed, and although she may have completed 72 film and television roles, there isn't a lot for me to get my hands on.
I think she is brilliant, although here is something that might make me change my mind! Helga Feddersen sings Gib mir bitte einen Kuß
Helga Feddersen at Wikipedia.