Warnung Vor Einer Heiligen Nutte; The title speaks volumes. In principle it says that Fassbinder thinks his art is holy, but that it must also whore itself. The harsh economic message was a necessary follow-up to the free art experiments which he was part of and which were going on all over Europe when he was growing up. Artists have ever since been preoccupied about where their money comes from, more than they ever were before; and still are. In Beware of a Holy Whore, we can more than anywhere else (Germany in Autumn excepted) Fassbinder playing himself, twice if you count Lou Castel playing it. Better yet Fassbinder chooses to reprise his crazy white suit from The American Soldier while he is playing; his role is get a film made. by telephone, from a foreign hotel, while his cast and crew lounge around him, bored, selfish, horny, drunk and jealous.
Most directors would shrink in fear at the idea of a twenty minute scene, but for Fassbinder it is home territory. In his one case it really seems to be true that if you have mastered theatre, then just imagine what you can do with cinema; but in the hands of nearly every director, they are for very good reasons very different art forms. It is one of Fassbinder's special places in history that he was not only one of the few directors to marry the two successfully, but also that he excelled in each and knew their strengths.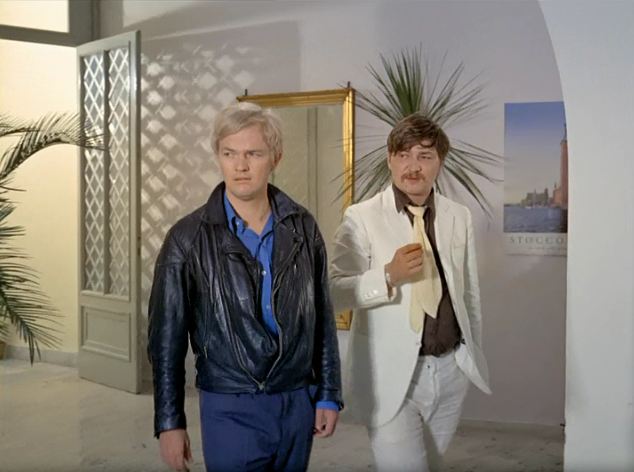 There are two further complexities to this film; the first is that inaccessible as it must be to people who know nothing of Fassbinder, it was still, of his own films, the one he loved the best. Given he had 41 to choose from, that is high praise and can hardly be overlooked.
The other consideration is that this film, if it has an underlying acting theme or technique, is basically the portrait of a kindergarten. It is about temper tantrum, appetite, indolence and childish inexperience. There are moments when adults intervene, to give out rows and shout somebody down; such as when Peter Berling appears as Mandig, to give Jeff the director a row; it is very like an adult intervention among some children, and Jeff remains sulkily quiet, obviously determined to soak up the anger and redirect it on his own crew when he has a chance.
Near the close of the film, Castel's performance as Jeff becomes crazier still, to the point of his being entirely unrealistic, blaming everybody (whom he calls 'bloodsuckers') for the inactivity of the production, and the dashing of his cinematic dreams. His screaming response is to demand 10 Cuba libres. At this point, Fassbinder (in a crumpled white suit, but nonetheless clearly the angel) gives advice to himself as he guides the doubting Lou Castel back to work with comments along the lines of 'you know that only you can finish this film.'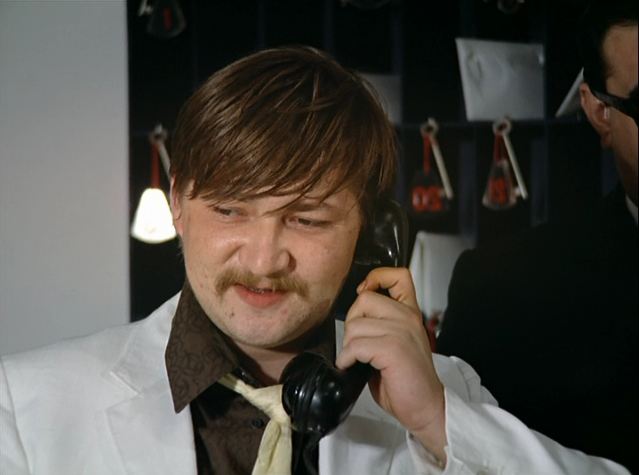 I like, near the end when Lou Castel seems to explain the entire Fassbinder working method in a very short space of time, speaking to Hannes Fuchs and saying: 'It doesn't matter if it looks unnatural… come up with something yourself!' It's around this point that the film's pace and cutting turns completely from full-fledged scenes into quick vignettes, and cuts between parts of scenes; such as the one in which Fassbinder says to Lou Castel: 'You know, the only thing I accept is despair,' – one of several trite and faux-deep sentiments that crop up.