Yes, look out for Barbara Lass, playing the Polnische Köchin, that is, the mysterious Polish kitchen helper in Effi Briest (1974) in frame with a chicken and in gypsy attire, cutting herbs with a tiny blade while humming something tuneless in a rather threatening kitchen scene. Because as if the cook wasn't scary enough, the assistant is enough to demonstrate that Effi is going to be alienated if not murdered wherever she goes in her husband's world.
If one version of society is too high and mighty for Effi, and the drama makes it clear that this is the case, the lower tier of society is certainly not going to accomodate her either, and likewise lets her know it.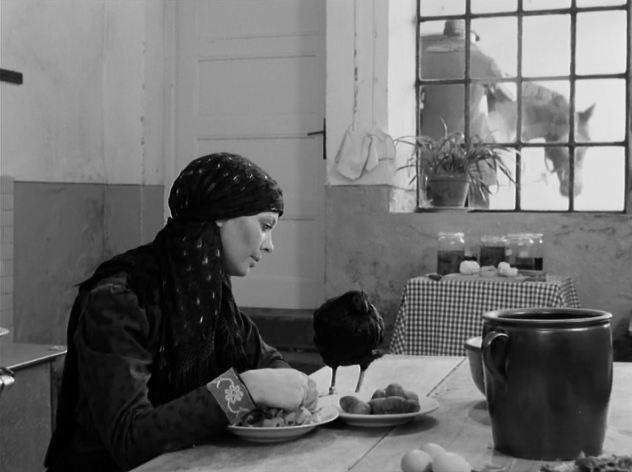 Barbara Lass'part is simply that of a ghost; she resides in the kitchen in Effi's residence in Kessin, and persists as dark reminder that the house is not a friendly place; and more than that, in her gypsy garb there is a clear suggestion that dark forces are at play, and that there is going to be no security if they ever break loose.
At the time of shooting it was very frustrating for Hannah Schygulla to simply stand still and not express herself as she wished to as an actress. I think the scenes with Barbara Lass show this; it was important for the hypnotic effect Fassbinder achieved that Schygulla retain composure at all times and she has to be phenomenally still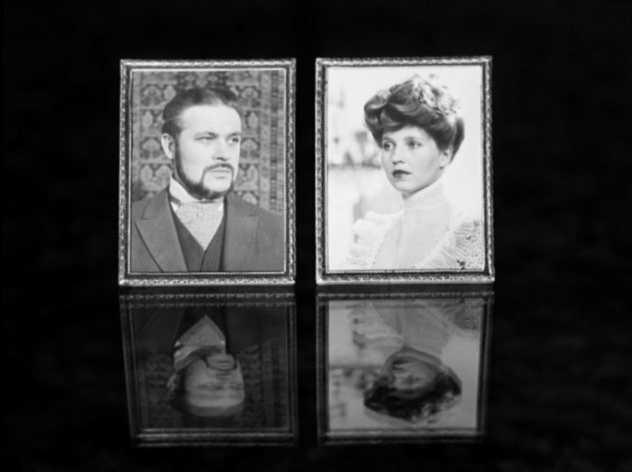 Incidentally Fassbinder was very proud of the fact that nobody could notice that there was a change of cameraman on Effi Briest; the first half was shot by Dietrich Lohman and he second half by Jurgen Jurges. Jurges worked to an exceptionally tight budget, and he's responsible for asking for the black felt and glass table , with which they composed some very elaborate lighting - a picture in a slanted mirror which through refraction was reflected in a glass table.
Born in Poland Barbara Lass was married to two of my favourite men in Euro Moviebiz: Karlheinz Bohm (lots more of him here) and Roman Polanski. She was a great proponet of and collaborator with Radio Free Europe. Lass' and Karlheinz Bohm's daughter is actress Katharina Böhm.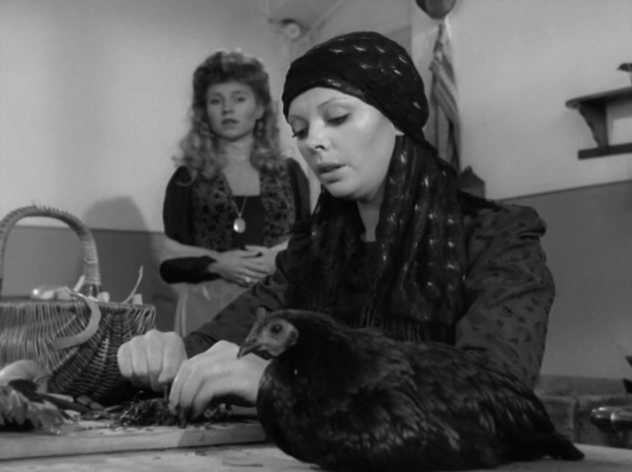 You have to enjoy Barbara Lass in Effi Briest; she is quite the character. I really like Barbara Lass' gravestone also; she died in 1995 and one good place to see the gravestone is on de.wikipedia Wiki Media Commons.

Rainer Werner Fassbinder Effi Briest Gallery

{AG rootFolder="/images/" thumbWidth="200" thumbHeight="120" thumbAutoSize="none" arrange="name" backgroundColor="ffffff" foregroundColor="808080" highliteColor="fea804" frame_width="500" frame_height="300" newImageTag="0" newImageTag_days="7" paginUse="0" paginImagesPerGallery="25" albumUse="1" showSignature="0" plainTextCaptions="0" ignoreError="1" ignoreAllError="0" template="classic" popupEngine="slimbox"}stories/stills/Effi{/AG}