Beware of a Holy Whore (1971) does offer an amazing role for Hannah Schygulla as the ultimate vacuous vamp of an actress. She is certainly good looking enough, and appears throughout in the type of iconic white dress that Marilyn Monroe may have filled, but which she cannot quite; certainly not off camera anyway. It's the ultimate separation for the viewer between what you expect to see in film, and the rather mundane background; lights, cameras and philistines and sexual prowlers on the make.
In her first real scene, Schygulla is even more cruel than you might expect, but so nicely. It's hard to tell which is which. As with Fassbinder, she is her director's 'special one'; you can tell by the way that other cast and crew ask her things about him that they expect her only to know; 'you can't ask him anything,' they say to her.
Unsurprisingly, there's also a whore thing going on with Schygulla in this film; the dress makes it obvious as does the way she can switch men mid-kiss; as she does from Herb Andress to Eddie Constantine with a great look across the room.
There is something so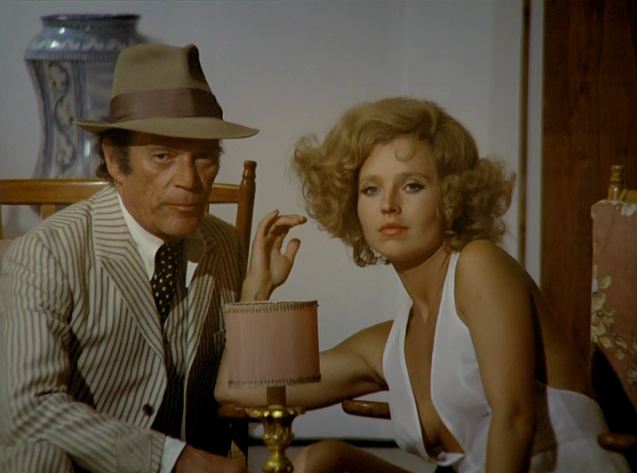 rarefied about Hannah Schygulla's character in Beware of a Holy Whore; she is like an angel, above and beyond the world of the others around her, and even calmer and more gathered than Eddie Constantine. The German generation of the 1970s were well versed in politics and the effect of ideology on different people, and for Fassbinder, all of this is regularly transferred to interpersonal relationships too. It means that Fassbinder often sets up metaphors that are so powerful there seem to be many things going on at the same time in a scene or film.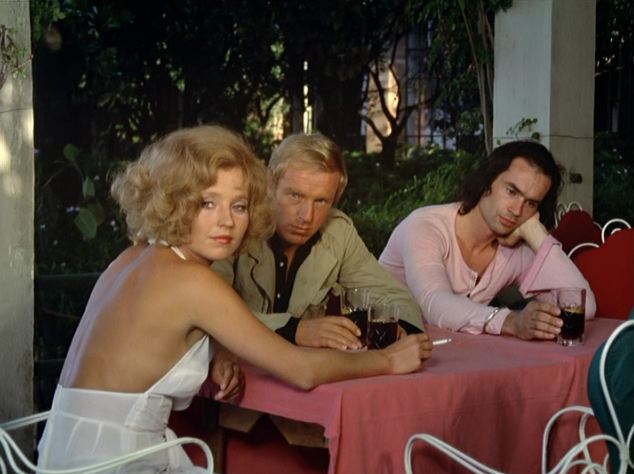 Schygulla's speech to Ulli Lommel, Lou Castel, Hannes Fuchs and Monica Tueber on the rocks below their hotel, in which she explains that the set up they have simply has to function, with no alternative, because the dependence they have on the director leads only to fear - is one such - an incredible point in which the reality of both Fassbinder's and Hitler's operations are both exposed.