Eddie Constantine, who appears as himself in Beware of a Holy Whore (jah, Er selbst) is something of a 60s and 70s token, thanks largely to his appropriation by Jean Luc Godard, who moved him into a metafictional role in Alphaville when he reprised Lemmy Caution.
The great thing about Eddie being Eddie, is his isolation; a real star among the grovelling and bitchy lower professionals, stuck in their own bad habits and cliquishness; the very first thing we hear in the film (erm after the infamous Goofy joke) is how Babs perceives the most of the people present as some kind of commune; that's a topical joke for 1971. Of course we're used to actors playing themselves (it always seems clever) but in place of audience savvy, all the ingenious Fassbinder has instead is good acting, silences and a wide open space with which to express the funniness of this idea.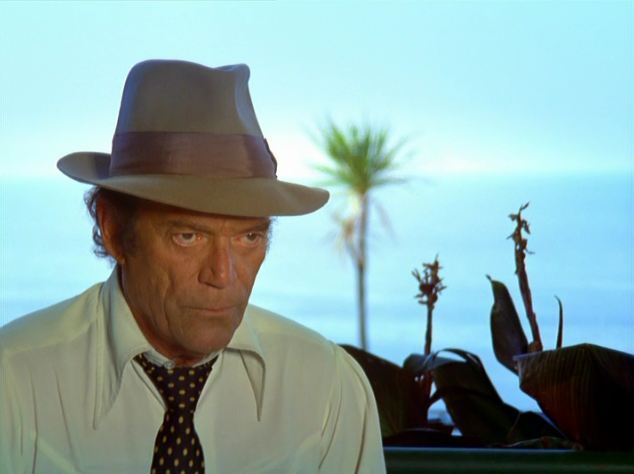 By which I am referring to the foyer where a good quarter of Beware of a Holy Whore is shot. Repeatedly Constantine enters and sits by himself, with the Constantine hat on. He sits on quite a silly little chair and enjoys being himself while the others ignore him. It's not that the other people in the foyer are uncivil; far from it. He just doesn't belong to them and their scene.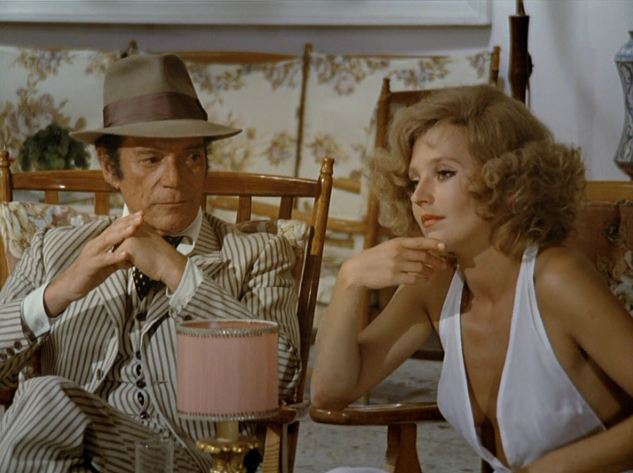 The only person Eddie Constantine can connect with properly in Beware of a Holy Whore is Hannah Schygulla, because he is still able to be a predatory man. He snogs Hannah Schygulla by telling her not to talk so much then twisting her wrist until her lips meet his; so he's maybe not playing all-Eddie, all the way through; I wouldn't know. That's the whole joke; you can mess with your persona while pretending to act it.