It's easy to forget that the country Rainer Werner Fassbinder lived in doesn't exist anymore. It's a pity but there aren't many Germans of his generation who missed out on the unification experience, but because of when he lived and died, Fassbinder was unlucky enough to find himself existing in a Westdeutschland that came into existence in 1949, a few years after he was born, and ceased to exist almost a decade after he died.
I don't think the significance of this can be overlooked, even if it isn't overtly discussed in his films, but as time went on Germany became more and more of an artistic inspiration, until he found himself embarked upon his own rather grand project of filming its history – in the terms of stories, always of women. And although the film advertises in its credit sequence that it is BRD 3, it was in fact the second in the sequence, as it was shot before Veronika Voss.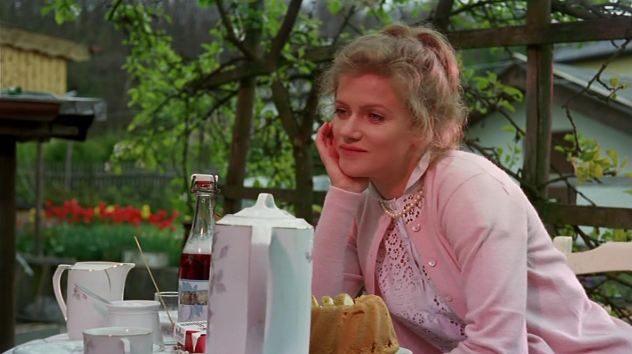 Lola, played by Barbara Sukowa, is a prostitute in the booming and colourful post-war world of West Germany – one of many Fassbinder prostitutes, indeed. She isn't the tart with a heart kind of prostitute however, but a woman who knows what she can get by using her power over men, and who is keen to acquire not just love (as they always are in Fassbinder) but also money and property.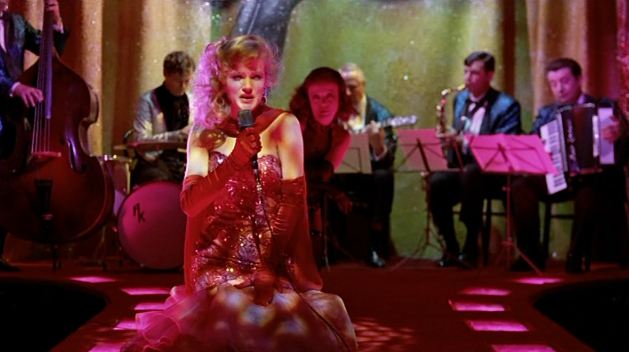 First, to the singing, which is astonishing, and which was recorded live, with no overdubbing; although with Sukowa, it isn't just the singing, but the drama and the emotion included; as well as a historical sense of cabaret, maybe partially gleaned from her experiences on Berlin Alexanderplatz. How she manages that stunning tremolo, I shall never know; but like her timing and everything else about her singing performance, it is exceptional.
Lola is a character who is paid for everything; paid to listen to Schukert's building anecdotes and even paid to drink and get drunk. She's paid to sing and sit on men's knees and it isn't until she's set up with Von Bohm the building inspector that we begin to realise that she may be in more control of her situation than we might otherwise think – this despite her excellent performance as a drunk, which is funny and carefree and yet has a very consistent undercurrent to it. How Sukowa expresses that is skilful to say the least.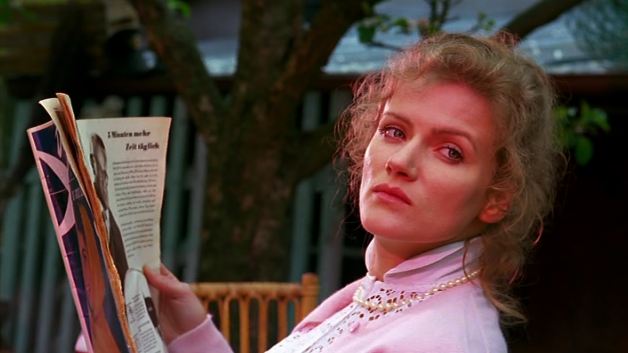 Lola is a stranger in her own home but not on the stage; and her performance of Caprifischer (done in one single take with no rehearsal – typical Fassbinder – is as immense a set piece female performance as you will see — topping from Meg Ryan in When Harry Met Sally, or Isabel Adjani in Possession. One thing that makes this performance great is the build-up. Sukowa starts the song with the end in mind, and it is basically a drama in itself, this short musical number. She has completely mastered the chanteuse tremolo, which is very funny, and looks the part too so much so that this short scene was probably show-reel enough for any director who wanted to work with her thereafter – and she spots Von Bohm in the audience just at her happiest, almost at the point when she seems to be imitating the rising sun.
Once the stunned and disappointed Von Bohm leaves, that is when Lola goes mad. I have no idea what Fassbinder must have said to Sukowa, but never was a better song performance given. And she literally goes stark raving mad, dancing with more abandon than you will see in most all other cinema.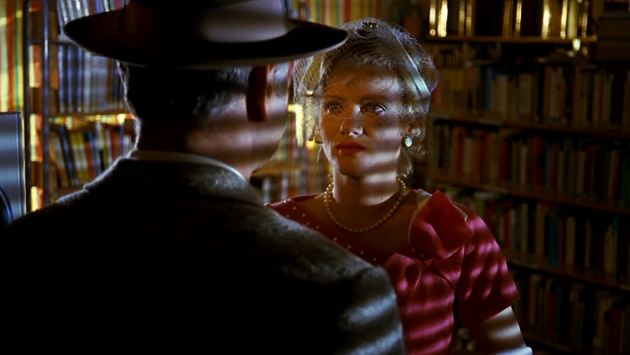 Lola is a cruel character also, hardened into a brittle stick of resentment by the local people and her role as whore. She finds it ridiculous that Von Bohm should challenge the local authority and likens him to Don Quixote. She is a strong-willed, arrogant and determined woman. Whereas Fassbinder's earlier melodramas are almost documentary in their realism, Lola is quite detached, often surreal, often funny, and uses music and light to create atmosphere.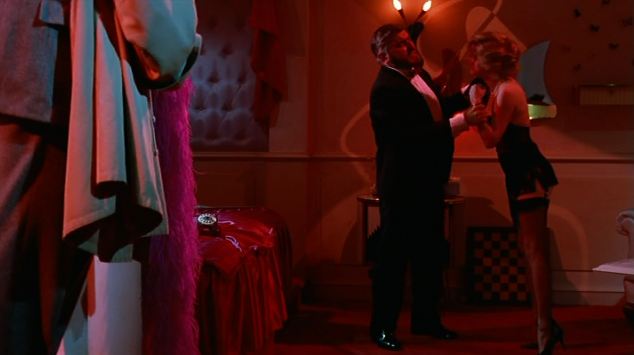 What Barbara Sukowa brings is acting genius on top of this, free, expressive, experimental, and yet very definitely pre-determined around some various characteristics she must have observed and learned. She is a star, she is the star, of that there is no doubt.