I have always been drawn to this description of the Black Plague in Scotland from Andrew of Wyntoun. Wyntoun was a Scottish poet, a canon and prior of Loch Leven on St Serf's Inch and later, a canon of St. Andrews.
Andrew Wyntoun is most famous for his Orygynale Cronykil of Scotland, which contains an early mention of Robin Hood. A striking feature in this description of the plague is the reiteration of the fact that every historian and chronicler repeats about the Black Death, that when it raged, a third of the population died from it. Actually, chroniclers in other countries have stated that anywhere between fifty and ninety percent of the population died.
Though the plague definitely hit Scotland in 1349, it seems to have been less damaging here than elsewhere, perhaps due to the harshness of the winter. Although this changed in 1350, the plague does also seem to have had an effect on English and Scottish relations.
I think I am most drawn in this to the cute word 'barnys' - 'bairns' to you and me. The Book of Pluscarden (Liber Pluscardensis) also talks of a third of the population being wiped out, so the figure must be fair.
In Scotland, the fyrst Pestilens
Begouth, off sa gret wyolens,
That it was sayd, off lywandf men
The thyrd part it destroyid then
Efftyr that in till Scotland
A yhere or more it was wedand
Before that tyme was never sene
A pestilens in our land sda kene:
Bathe men and barnys and women
It sparred noucht for to kille them.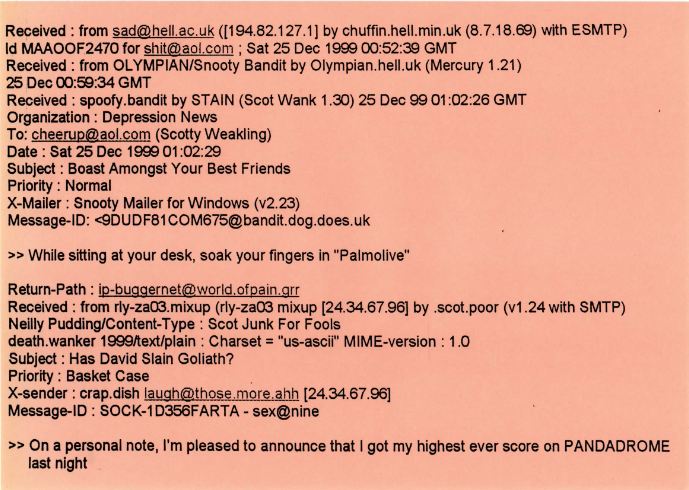 PART TWO: The Nine of Diamonds remains the Curse of Scotland. The origin of this name is not certain but many explanations, some of which follow, are suggested. Lord Justice-Clerk Ormiston was called the Curse of Scotland and so the Nine of Diamonds (also commonly called the Curse of Scotland) was known to them as The Justice Clerk.
From
The Golden Bough

:
"In some parts of Amboyna, when the state of the clove plantations indicate that the crop is likely to be scanty, the men go naked to the plantations by night, and there seek to fertilise the trees precisely as they would impregnate women, while at the same time they call out for "More Cloves!" This is supposed to make the trees bear more fruit."
Which explains no doubt the desperate, guttural cries of "More Lambs!" heard throughout the Spring in Scotland.
What dynamism in our forebears!
Why, then, have we inherited so little of their pep, their defiant, demonic propulsion?
Have we been short-changed genetically, a gamete short of a character?
Not only could our grandparents out-stroll, out-write and out-work us, but they did it with such animal virility that it pales even our pasty, anaemic countenances that little bit more to think of trying to equal them in action.
What did they have that we lack?
What escaped transmission to us, or was it lost in the translation?
I have an idea, but only that.
A tentative, undogmatic notion that I am scarecly strong enough humbly to propose.
I get so tired you see ....
The content and purpose of dreams are not definitively understood, though they have been a topic of scientific speculation and a subject of philosophical and religious interest throughout recorded history:
In the Mews flat, with a new computer : I didn't really want to live there, and worse, it seemed like I had a choice. I put my ear to the computer while the others moved in furniture. I was asked questions by the landlord. No : I didn't want a sound card for the computer; I didn't want anything. Are you sure you know how to use it? he kept asking, and I reassured him that I did. The people who sold me the machine came on all facetious. What was the point of such a lovely Mews flat, with flowers in tubs, cobbles, and this lovely new computer? The computer could be used as a telephone, but I was happier putting my ear to it and listening to the voices this way. Are you sure you know what you're doing? the landlord asked; but I was boss. Another call came through : someone's friend wanted their boat moved into the market, and all the men were to go and help. So : we moved off down the hill, descending until I realised that I had to return and put in a call to my wife. I had an excellent method of clambering back, a variety of crawl which allowed me to move low over the ground, in a manner of sliding, reaching upwards with momentum until at the summit I was able to break into a sprint. When I got up back to my Mews flat the landlord had taken the computer, and was driving off through the mud. I didn't chase him. I couldn't even find the flat any more.
The Apocrypha of Burnett, the Wisdom of Peter and the original word Panatenda have all been heard now together - and have caused not a little stir in the human minds that they have touched. The results of these pronouncements is the present websdte which was written as a snow plough for a time when all the world is but a frost.
During the website's composition, Peter ate nothing but what grew in the field and lavished great benefit upon himself for seven weeks until his hope perished and the website was near done. Have we not suffered enough? he is heard to have said, and then he is known to have raised a loud lamentation. Have we not laboured under the sun? he is reported to have asked, and have we not worked hard and entered into the spirit of production - even when the football was on?
Such was the strain the website caused on his already breaking mind - that as Peter confronted the thought-motif SPLENGRA and prepared for his final victory over boredom and impotence - he is known to have sung HOSANNA! in preparation of his visit to the beach.
"Altogether, I think we ought to read only books that bite and sting us. If the book we are reading does not shake us awake like a blow on the skull, why bother reading it in the first place? So that it can make us happy, as you put it? Good God, we'd be just as happy if we had no books at all; books that make us happy we could, at a pinch, also write ourselves. What we need are books that hit us like the most painful misfortune … that make us feel as though we had been banished to the woods … a book must be an axe for the frozen sea within us. That is what I believe."
The Three Cardinal Rules of THE HIGHWAY CODE are * :
1. Wave your arms in order to get the driver to slow down.
2. Drivers : try not to cram your mouth with pies while driving. You will not be able to speak on your mobile phone.
3. Always follow the car in front unless they are driving right at you.
TRAIN RIDE: Some tea some tea with milk and sugar, the ticket inspector's holstered Lüger, this is the Mirror that carries the man back to his day in Aberdeen or Heyford way, that chap must fly across the land on moral rails you understand, to get his whooshing scenr'y hiss, to spray the chunties with his piss, to Berwick with his postal order presenting cheques to cross the border, fleeing from well-set Edinburgh where wank perfection's always thorough where croissant shaped the city style where minkers line the Royal Mile, he bumps through England now upon the train INSANE! he now believes!
IN THE MAIL: Several brochures saying that a twelve year anti corrosion warranty, together with major service intervals and a comprehensive customer care package could all be yours, provided you chose the right of 2 lands (Romans 10 to 9 "Believe it with your Head" ) put your sexual chocolate on the market and inflate your sunken rib-cage in order to opt for the burred wood gear lever knob and the Votex 7 spoke alloy wheels, the colour keyed front and rear bumpers and front centre arm rest, all included but all exclusive of fleet management fees, sales assistance and leaseback.
* A full range of credit facilities are available, ranging from Death on a Stick to Purloin Purchasing agreements linked to a variable Finance House base rate, using current Shit Adjustment Tables, while you operate your vehicle privately, and go mental at the wheel, allowing you great peace of mind, and a wide choice of mileages, to satisfy your rampant outward urge, as you attach yourself firmly to the aluminium trim strips, opt for retractable rear centre lap belts, front bumper integrated rear screen aerials, Sienna upholstery, Competition-Standard alloy nut and beef toppings, and automatic handbag release.
Let us take the example of a man I will call Charles Brockden Brown. Charles Brockden Brown is a junior executive with a promising future, a wife who loves him, and two healthy children . . .
To be published with The Combined Technical Jargon of Bev
These are all words and phrases which we have picked up from researches into the Scottish Aberdonian way of speaking and living. We are three American students from New York who are in Scotland because of the unique words which they use here, and the Congy Ben Website has let us publish what we have collected so far.
We hope that you enjoy the words, and that you send us more if you hear any while you are in Aberdeen!
LOSS RATIOS EXPLAINED. As well as depression related shop-lifting, an abyss of deepness opened, distress flowed up through the slough, and our cousins came to stay for the weekend.
This did not effect the overall performance of the Economy, which suffered only a minimal amount despite the high volume of unhappiness.
The physical properties of the city of Edinburgh alone are enough to inspire awe in even the most determinedly impressionable, unobservant, English ape. But are best seen, rather than described. The populace, however, is ripe for ridicule. The population can be split in two roughly equal parts : Ancient and Modern. The former consists of 250,000 surreptitious wall-eyed hybrid Irish pub-dwellers, admirably possessed of a profound, seemingly infinite capacity for quiet reserve and decorous, delicate incuriosity, until drink-fuelled, they burst into extremes of hospitality and disinterested generosity. I can't help but envy their complacent, effortless confidence in drinking every day.
Marcel Duchamp's Three Great Putative Gestures were:

1. Adding a moustache and beard to the Mona Lisa in L.H.O.O.Q (1919);
2. Bottling Paris air (1919);
3. The creation with Man Ray's help of his artistic alter-ego, Rrose Selavy (1920 and 1921), who featured on an empty perfume bottle, whose purpose was to provide a bottled version of the artist.
#freetopiary: An Occupy Fable
by Peter Burnett
Consumerism, passivity, apathy and distraction.
The internet is no place to attempt changing anything that matters.
A young Scottish Borderer, Alan Stewart, struggles to come of age in a world he knows only through the world wide web.