The brief spell David Balfour spends on Erraid is one of the most evocative in all of Stevenson, I think so. The chapter titled 'The Islet' is a Treasure Island in miniature; it is the ghastly pain of Jekyll and Hyde; it's even its own travelogue. David Balfour, soaking, and becoming more wet and exhausted by the minute, living off mussels, some of which go down well, some of which make him vomit - he never knows which, and the isolation - all are stunning drama.
'The Islet' begins with these words: 'With my stepping ashore I began the most unhappy part of my adventures'; and ends with these words, some of the best in the book: 'I have seen wicked men and fools, a great many of both; and I believe they both get paid in the end; but the fools first.'

Only the first BBC version of Kidnapped makes an attempt to portray the Erraid set piece on film. The 1960 film replaces it with a mean Scots persona created by Duncan Macrae. In RLS' Kidnapped, this character which appears in the chapter 'Through the Isle of Mull' is the impudent Gaelic cheat that attempts to guide Davie.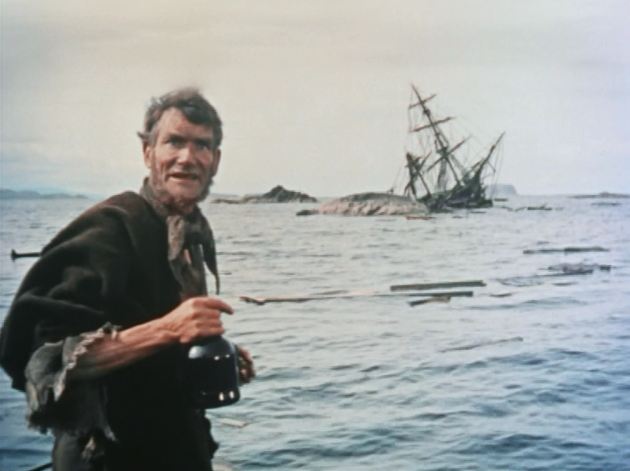 In fact, this guy does something very funny in terms of his 'operating like a slot machine'; he only speaks English when Davie pays him, and the English seems to wear off and he needs to be paid some more.

Now it's always great to see Macrae on film, because most of us would never have been able to see him on his natural home, the stage, but it is not a terribly good character, despite his main scene being shot in a very bonny location.

Actually, I am dubious about a general recent trend for complete re-writes from the BBC when it comes to re-shooting the classics. What they did to The Day of Triffids in 2009 and Kidnapped in 2005, is strange and in both cases makes the story much worse. The Day of the Triffids was actually pretty good, though it might have benefitted from being closer to the book, or produced as a separate but merely similar story. Eddie Izzard was immense.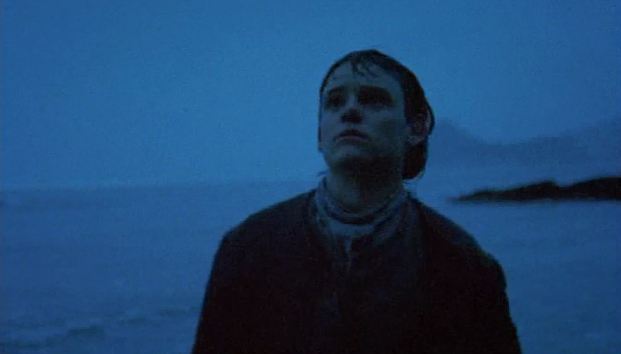 Kidnapped 2005 from the BBC is a strange waste of time when compared to the Stevenson novel, and should come with a warning such as 'Enter a cast of clichéd Highland weirdos.' Complaint must be made concerning the shooting location, New Zealand (yawn) which looks more Scottish than Scotland could, but has among other things, nae heather. Can you shoot Kidnapped without heather?
We dinnae think so. The whole New Zealand thing with Kidnapped (2005) revolves around the classic NZ film shot as originated in Lord of the Rings; actors in flowing robes/battle gear etc, running across a mountain top, shot by a circling helicopter. It sells somewhere, but not here, and yet as an image it's appropriate for Davie and Alan on the move - although without heather.
I am not convinced, nor will be. It's worse than a cliche, it's a boring cliche, and combined with the horrid music excecuted to Davie and Alan's sprint, it amounts to an offence that only the most brain damaged or culturally moribund RLS fans will despise.